Dubai is a shopper's paradise and one of the best places to find fresh produce, gourmet food items, and more. With its many supermarkets offering an abundance of options for shoppers, it's no surprise that one thing expats love about Dubai is its grocery shops. Whether you're looking for something special or just need to get your weekly groceries, there are plenty of great opportunities available in this vibrant city. In this article, we will explore some of the most popular supermarkets in Dubai and discuss tips on how to make the most out of your shopping experience here.
Overview of Dubai's Supermarkets & Hypermarkets
Supermarkets are typically smaller than Hypermarkets but can still be very large that focus on selling fresh produce, grocery items, and other general merchandise. Hypermarkets, on the other hand, are larger stores that sell a wide variety of items including food, clothing, furniture and electronics. They are often more like department stores than traditional supermarkets as they offer a wider range of products and services.
Carrefour – One of the largest supermarkets in Dubai, offering a wide range of fresh produce and food items
Spinneys – A popular but premium chain of supermarkets with an extensive selection of international products
Union Co-op – Offers shoppers competitive prices on everyday essentials
Lulu Hypermarket – An affordable option for grocery shopping with many discounts available
Al Maya Supermarkets – Smaller supermarkets focused on Middle Eastern goods
Choithrams – A more premium supermarket with a large amount of imported goods
Geant – Features a diverse range of products at great value prices
West Zone – Popular in South Asian areas with produce that is more focused on imports from including Indian and Filipino foods.
Waitrose – A high end originally British supermarket that stocks a lot of international products
Viva – A new supermarket chain which is focused on bringing consumers own brand cheaper groceries
Carrefour, Lulu & Union Co-op are the largest operators of Hypermarkets in Dubai. Carrefour's largest store is at the Mall of the Emirates and offers almost every good you can think of! Lulu also has a large hypermarket at the back Mall of Emirates.
Different Types of Supermarkets in Dubai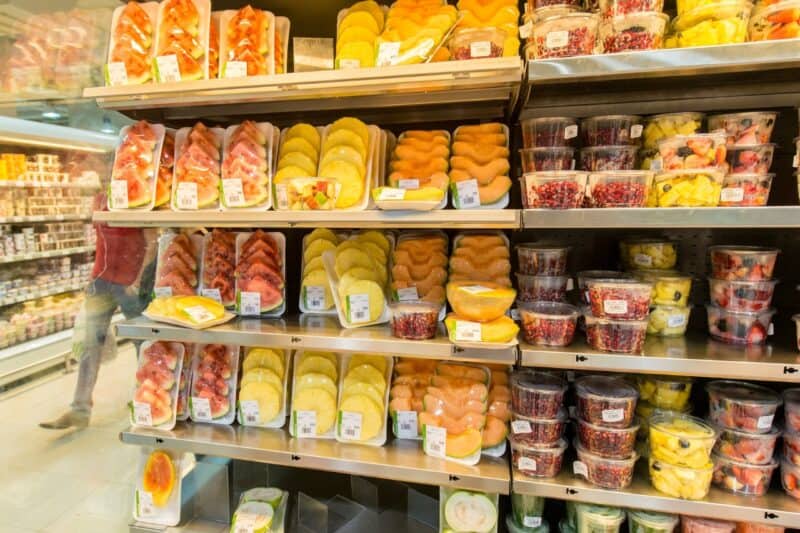 Dubai has a wide variety of supermarkets to choose from, ranging from traditional corner stores to large hypermarkets. Depending on what you're looking for, there is sure to be something that meets your needs. You'll also find gourmet food markets and organic food markets in Dubai.
The leading gourmet food markets in Dubai include Jones the Grocer, which features a selection of artisanal cheeses, charcuterie, and gourmet deli items. For organic produce and natural foods, The Organic Foods & Cafe on Sheikh Zayed Road is a great option along with The Farm in Souq Manzil and Ripe Organic Market with locations across Dubai
You'll even find farmers' markets such as Organic Farmers Souq, previously known as Farmers Market on The Terrace. This was one of my favourites to visit every weekend as you'll find really fresh produce direct from the farms which lasts a lot longer than those from the supermarket. You'll even find things like independent vegan ice cream sellers and pop-up coffee shops. Cause who doesn't want a latte to drink while they wander around at 9 am?
The Spice Souk is another popular spot for unique food items, offering spices, herbs, nuts and seeds from around the world. Though it definitely is more touristy here, so you can end up paying a high premium if you don't haggle.
Jones the Grocer
Marks & Spencers Food
Park & Shop
Organic Shop on Sheikh Zayed Road
Biorganic Store in Times Square Mall
Ripe Organic Market
Organic Farmers Souq (previously known as Farmers Market on The Terrace)
Depachika Food Hall at Nakheel Mall, Palm Jumeirah
Product Ranges at Grocery Stores in Dubai
Grocery stores in Dubai offer shoppers a wide variety of products and services. From fresh produce to gourmet food items, shoppers can find everything they need in the many supermarkets and hypermarkets around the city. Many of these stores also feature unique products like organic foods, imported items, and more. Even items you might not expect in a Muslim country such as pork products.
One of the most popular things about Dubai is it's large amount of product ranges and in particular its extensive selection of international items. Supermarkets like Carrefour, Spinneys and Lulu Hypermarket all stock products from around the world and offer shoppers great deals on imported goods. Many of these stores also have dedicated sections for speciality items like organic produce, gluten-free food and vegan options.
Though you won't find alcohol in Dubai supermarkets, you can find drinks like energy drinks, juices, iced tea and none alcoholic wines. For alcohol in Dubai, you need to go to specialist shops, similar to off-licenses in the UK or liquor stores in the US. They typically only sell alcohol.
Tips for Shopping at Supermarkets in Dubai
Shopping at supermarkets in Dubai can be a great experience, but it helps to have some tips for getting the most out of your visit. Here are some top tips for shopping at supermarkets in Dubai:
1. Visit in the Morning: Most of the larger supermarkets and attached to malls such as Emirates Mall, which start to get busy from around 3 to 4 pm in the afternoon. Slowly increasing until the evening times when they are really crowded. So if you want to quickly get your groceries and easily find parking, go in the morning time. Especially on weekends!
2. Take your own bags: Since the 1st July 2022, Dubai introduced a plastic bag charge, so if you don't want to pay the extra 25 fils per plastic bag. Make sure to take some of your own re-usable shopping bags. It's definitely a good idea to always keep some in the car.
3. Pay by card to save money: So a weird quirk of Dubai is that often the supermarkets won't give you the fils unless it's a 50 fil or 25 fil, sometimes not even a 25 fil. So when shops price things at .99 or .94, they almost never give you the 1 fil or 6 fil change. Over time, this extra paying of fils can add up! So if you don't want to lose them, pay with a card rather than cash.
4. Check the dates on items: A good way to make sure you're getting the best value possible is to check the dates. It's very common for supermarkets to put the shorter dates at the front and the longer dates at the back, So always do a good check before you out it in your basket.
5. Ask For Help: If you are having trouble finding something or don't know which product to buy, be sure to ask for help from the store personnel. They will be more than happy to assist you with your shopping needs and can even point out any discounts or promotions that the store is currently offering.
How to Get the Best Deals on Groceries in Dubai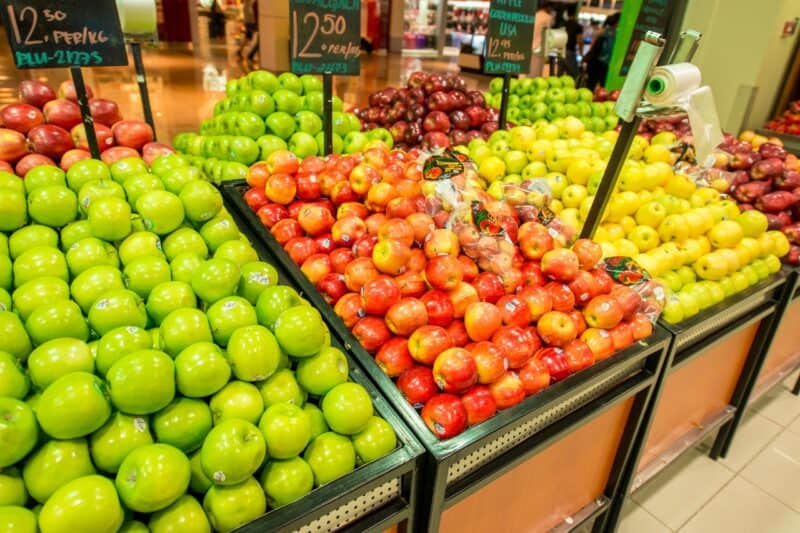 Shopping for groceries in Dubai can be a great experience due to the diverse range of products and services offered. However, shoppers should always keep an eye out for the best deals on their grocery items as it can be expensive in Dubai. I once saw a single onion being sold in Waitrose for 36 AED. Here are some tips for getting the best deals when grocery shopping in Dubai:
1. Shop around: Dubai can be expensive for certain items and different supermarkets can widely vary between prices! Even the location of the supermarket can change the prices of the items. So if you work in Downtown but live in Business Bay, you may find your grocery shops are cheaper in Business Bay for example. It can also help to compare prices online or visit several stores to get the cheapest prices.
2. Know Your Prices: Keep track of prices and check which different supermarkets are cheaper for those items. It's also good to check for deals as some supermarkets may be better for deals but more expensive for regular priced groceries. Alternating grocery shops can help, as long as you know your prices. This way, you can ensure that you are getting the best deal possible.
3. Shop late at night for deals: Okay you'll have to brave the crowds for this one unless you do it on a Monday or Tuesday night but many supermarkets reduce items that have a short use or sell by date on the evenings. Particualrly M&S, is known for reducing its prices on items needing to be sold usually around 9 pm. You can usually save around 50% off but sometimes even more!
4. Look For Promotions: Supermarkets often have promotions and discounts on certain items, so keep an eye out for these offers when you are shopping. Many have booklets they release on a set day or PDFs online which share the offers of the week, So it's best to go either on the day deals are released or the lastest the day after, as really good deals can go out of stick fast.
5. Collect loyalty points: Many stores will also offer loyalty programs where shoppers can save money on their purchases over time. Carrefour offers such a problem and you can then use those points for discounts off your shopping bill. Some supermarkets such as Union Co-op offer discounts to card holder members so you'll save right away just by signing up for one of the customer cards.
6. Buy In Bulk: Many stores in Dubai offer bulk discounts on certain items if you buy them in packs or larger items, so it pays to take advantage of these deals if they are available. Of course, make sure that you are only buying items which won't go off before you have a chance to consume them! Also double check the price per item as sometimes the larger items don't always work out cheaper. So don't be afraid to get the calculator on your phone out.
7. Try Local Products: Shoppers looking for a bargain should try local products as these are often cheaper than imported goods, especially those from Western countries. Most supermarkets stock locally produced fruits, vegetables, dairy products and more. Though not all local versions may taste the same as those you are used to know back home.
8. Shop Online: Shopping online is incredibly popular in Dubai and there are many websites which offer great deals on groceries or other items such as electronics or apparel. Online retailers even deliver directly to your door, making it even easier to get your shopping done without having to leave home!
Some of my favourite online retailers for deals:
Conclusion
Shopping for groceries in Dubai can be a great experience, with the wide range of products and services available. Whether you're looking to buy fresh produce from your local supermarket or shop online for bulk discounts on imported goods. There are plenty of ways to get the best deals on your grocery shopping in this vibrant city. Keep these tips in mind when visiting different supermarkets around Dubai, they will help ensure that you always get the most bang for your buck! With so many options available, it is easy to find something suitable no matter what type of shopper, eater or cooker you are. So go ahead and explore all that Dubai has to offer. Happy shopping!
---
*This article contains affiliate links, clicking the link doesn't cost you anything extra but it does help me to keep writing these awesome articles for you!