It's Ramadan time and Dubai has a whole host of restaurants that put together some of the best and most luxurious Iftar buffets you can imagine! There are so many good places to choose for an Iftar buffet in Dubai. It was hard to make a final list but here are my highly recommended favourites depending on your budget and style!
Not sure what Ramadan is or what to learn more? You can learn more about Ramadan with my article here about visiting Dubai during Ramadan and what to expect
Dubai is already known for its luxury hotels so of course, they have buffets to match. While there are many restaurant buffet options throughout the year in Dubai. Ramadan is one where lots of restaurants that don't usually offer a buffet, offer one especially for the month of Ramadan in their Ramadan tents.
This means it can be a great time to sample a wide range from their menu or to get a pretty good deal at what is normally a more expensive restaurant! As they typically do quite reasonable prices for the Iftar buffets.
In a hurry? Jump to the section you need!
Best Iftar Buffets in Dubai:
So whether you're wanting a luxury iftar in Dubai to impress your friends, a more budget friendly Iftar or one which is ideal for taking the family. I've included a whole range of different iftars to suit a range of budgets and needs. Along with how much they cost per person and some insider tips such as whether you need to book in advance, how busy they get and more!
So enjoy and take a look through our ultimate Iftar buffet Dubai list!
PRO TIP FOR SAVING MONEY – Always, always, always! Check Groupon.ae for special offers on Iftar buffets!
*This article was updated for 2021 – All of the buffets were cancelled in 2020 due to the pandemic. I am currently researching which will be operating this year and will update accordingly!
---
Want to learn more about Dubai? Check out some of my other articles here:
What is the currency of Dubai? When did the UAE become a country?
What should a woman wear visiting Dubai? The Dubai Dress Code
The new and easy Dubai remote working visa
How to spend all your money in 36 hours in Dubai!
Which area should I stay in Dubai?
---
What is an Iftar?
The Arabic word aftar means to break fast and so the word for the meal where you break your fast is called Iftar. During Ramadan, Muslims fast during the daylight hours and iftar is the first meal they eat once the sun sets. Iftar doesn't have to be a buffet but iftar buffets are hugely popular in Dubai, especially during Ramadan.
What time is Iftar in Dubai?
So the time changes due to the time of Maghrib (the prayer performed by Muslims at the start sunset). So when you attend an iftar you will see everyone patiently waiting before the call for prayer is sounded.
As soon as you hear the sound, you are able to eat. Traditionally the fast is broken with dates and water. So if you find dates your table, this is why!
[dailytable_horizontal]
What time should I arrive at the Iftar?
So you always arrive before the Maghrib prayer or before what is known as the call for prayer is called. This is a loud noise in Arabic coming from the speakers on the minaret of a mosque you hear all the time when living in the Middle East!
Typically you will find that people arrive around 10 to 20 minutes before the call to prayer. As typically you will get settled and sit down at your table. Catch up with everyone briefly before eating.
If you live in the Middle East, you may have noticed you hear two calls for prayer from the local mosque. The first is the call for prayer and is when the prayer time starts. The second is what the prayer time on the mosque begins.
You are able to eat from the first call for prayer, you don't need to wait for the second. However you may find if you're with other Muslims, they will typically eat something small. Such as dates before then heading to pray. They will then come back after the prayer (usually around five minutes). Now you can start enjoying the tasty Iftar buffet!
Best Iftar buffets in Dubai
The best traditional Iftar buffet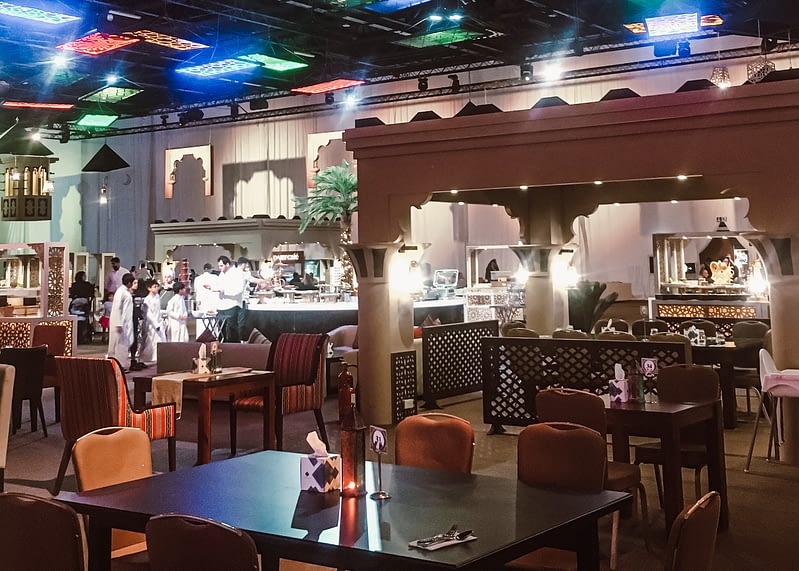 The Majlis – Dubai World Trade Centre
This is a great traditional option and is set up temporarily at Dubai's convention centre every year. You'll find lots of colorful decorations and traditional Islamic inspired arches. There are a good amount of food options and is a good mid-range buffet. The venue boasts award-winning chefs preparing the many dishes. Parking is free for iftar but is chargeable for suhoor. Get 10% off if you buy online in advance.
Insider tip; If you prefer to order certain dishes, their Suhoor option after Iftar is also super popular!
*This was cancelled in 2020 due to the pandemic, I have enquired for 2021 and let you know as soon I get an answer

Prices:
165 AED per person
85 AED for kids 6 to 12
Free for kids under 6
Best family option Iftar buffet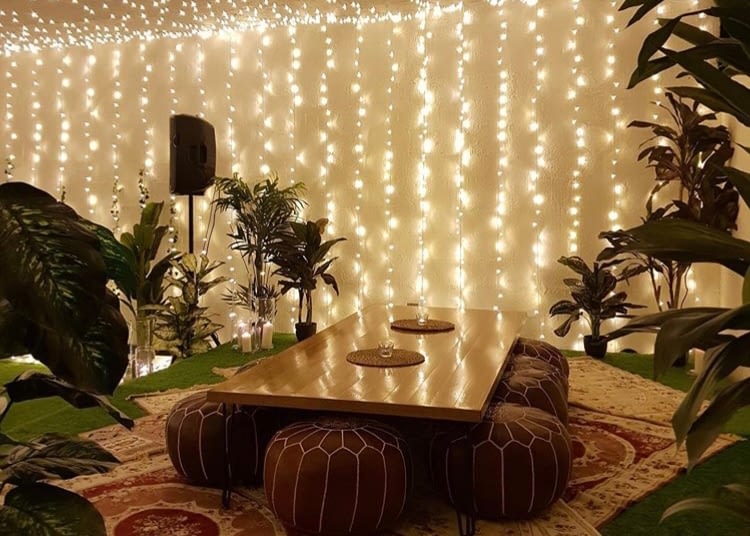 Emirates Bio Farm Iftar
This one is a bit of a drive away and is technically Abu Dhabi but it is truly one of the most unique Iftars available. Their Iftar is only available on weekends but is a great experience that is ideal for families.
This is definitely one we couldn't miss out on our list for best Iftars in Dubai! Served inside a greenhouse, you'll definitely want to take some photos. Included in the price of the Iftar is a farm tour. This takes around an hour and needs to be done before you enjoy the Iftar buffet. They also offer a good selection of vegetarian options.
Insider tip: Outside of Ramadan they're doing sunset tour and dinner which you can also book online
*You must buy your ticket online in advance and they sell out pretty quickly so make sure to book early!

Prices:
180 AED per person
80 AED for kids 6 to 12
Free for kids under 6
Best healthy option Iftar buffet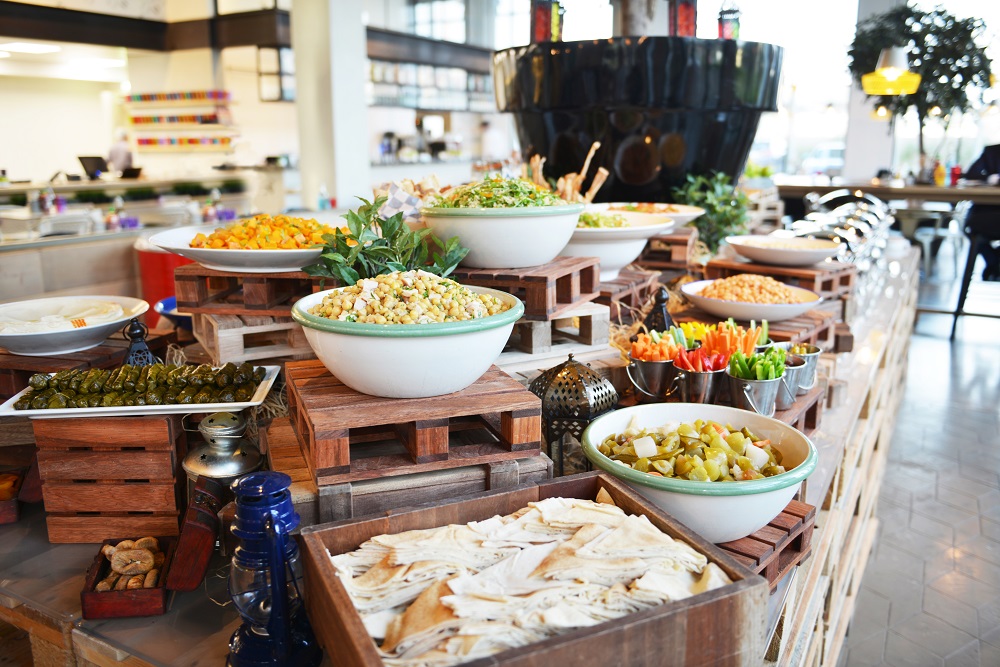 Rove Hotel – Downtown, Trade Center, Deira, Healthcare City & Dubai Marina
Offering a wide selection of healthy dishes and is a really down to earth iftar. It's also one of the most affordable available in Dubai. The restaurant features wooden tables or if you're in a large group, there are long wooden benches to sit. It's a great casual atmosphere with your friends. They also have a great selection of vegetarian options which is rare to find at an Iftar buffet in Dubai.

Price:
99 AED per person
Most unique Iftar Buffet Dubai
Al Hadheerah, Bal Al Shams – Al Qudra Road
Feel like you've taken a step back in time in a luxury bedouin style desert camp. You can sit under the stars as you dine, surrounded by the beauty of the Arabian desert. This iftar is perfect for when you have guests and are wanting to impress them with a one of a kind experience. It is a little bit of a drive but is definitely worth it. This iftar buffet includes live entertainment.

Sometimes this one is on offer on Groupon, so make sure to do a quick check before you go!

Price:
265 AED per person weekdays
295 AED per person weekends
The most affordable budget Iftar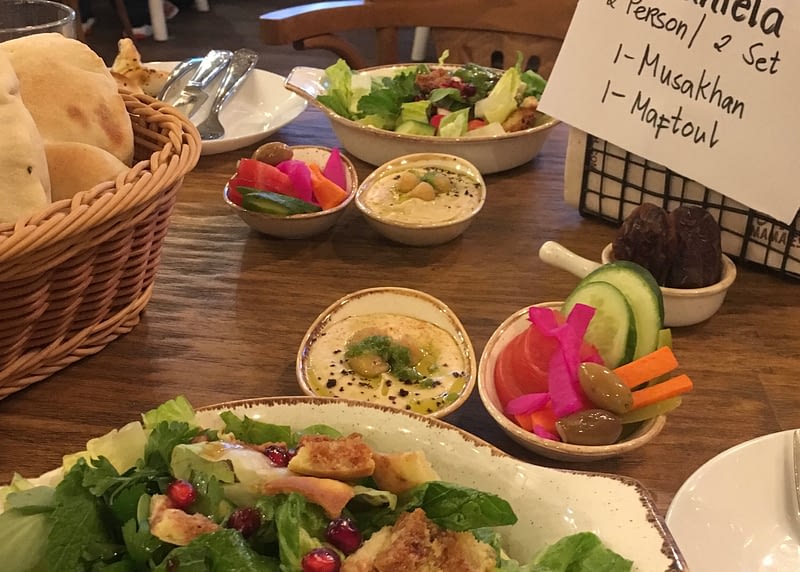 Mama'esh – Umm Suqeim, Business Bay, DIFC & Al Warqa
Ok so this one isn't actually an Iftar buffet in Dubai but is actually a set menu served for Ramadan. It includes a selection of starters, a main of your choice and a dessert. This Palestinian restaurant serves a feeling of homemade food and is a real gem of Dubai. I recommend going there even when it isn't Ramadan. Their iftar offers a great opportunity to try a few of their different signature dishes at a very affordable price.
*You must book one day in advance via the phone

Price:
49 AED per person
Foodie's choice Iftar
Le Petite Maison – DIFC
Ok so I had to include just one more set menu style as an Iftar for Ramadan as this is an amazing opportunity to try one of the best restaurants in Dubai at an affordable price. Le Petite Maison is the kind of restaurant you take a client to when you really want to wow them and it's equally fabulous for an Iftar. For the cost of this set menu iftar you get four courses for the price of what you'd typically spend on a single main dish. At the complete other end of Mama'esh but giving you the perfect time to sample some of their signature dishes.

Price:
240 AED per person
Best international food Iftar buffet
Meydan Ramadan Tent – Meydan
Most Ramadan Iftar buffets in Dubai tend to be more focused on Arabic food. This Iftar buffet is ideal if you're wanting more international foods. They have a wide selection of different types of food including sushi and pasta. They also have your typical Arabic buffet dishes. Plus, Meydan is a lovely location with views over the racecourse.

Price:
199 AED per person
Best luxury Iftar buffet
Al Majlis, Madinat Jumeirah – Umm Suqeim
It was tough to choose from all the amazing hotels. In order to pick which is the best luxury Iftar buffet in Dubai. I'm a huge fan of the Jumeirah group, they often go above and beyond. Out of all of the five-star hotels in Dubai, there's just something extra special about them. The inside is in typical Dubai style with its luxurious feel and opulent decorations. This incredible iftar serves mostly traditional Arabic dishes and inside feels magical.
Insider tip: The parking for this is not where you got for Souq Madinat. You need to drive to where Jumeirah Al Naseem and Jumeirah Mina A'Salam. There is valet parking on your left at Madinat Arena.

Price:
220 AED per person
We hope you have a lovely Ramadan and enjoy some of the Iftar buffets in Dubai off this list. We'll try out best to keep the prices up to date. Dubai is a lovely city to spend Ramadan in with so many restaurants and hotels doing such fabulous iftars. And don't forget to check Groupon before you go!