Welcome to Dubai in November! As someone who's lived in Dubai for almost a decade, I'm here to take you through the temperatures and humidity levels you can expect during this time of year, as well as give you some insight into what activities are ideal for visitors in November. We'll also go over essential items every traveller should bring on their trip during this month to ensure they have a comfortable and enjoyable time without getting caught out by unexpected weather. Whether you're taking a quick weekend trip or an extended holiday, Dubai in November has something for everyone!
Is November a good time to visit Dubai?
Absolutely! November is an ideal time for visitors to experience the perfect mix of sun, sand and sea. The temperatures in Dubai and the United Arab Emirates are pleasant and comfortable during the day, averaging highs of 28 – 32 °C (82 – 89 °F), and drop down to around 22 – 25 °C (71 – 77 °F) in the night time.
Humidity levels start to get a lot lower through the month, making it much more bearable for those who are used to drier climates. Though it can sometimes still feel a little muggy at the beginning of the month.
Rainfall is still low in November, thunderstorms can happen but they tend to last a few hours maximum and there have been many years without any thunderstorms at all.
Dubai weather in November summary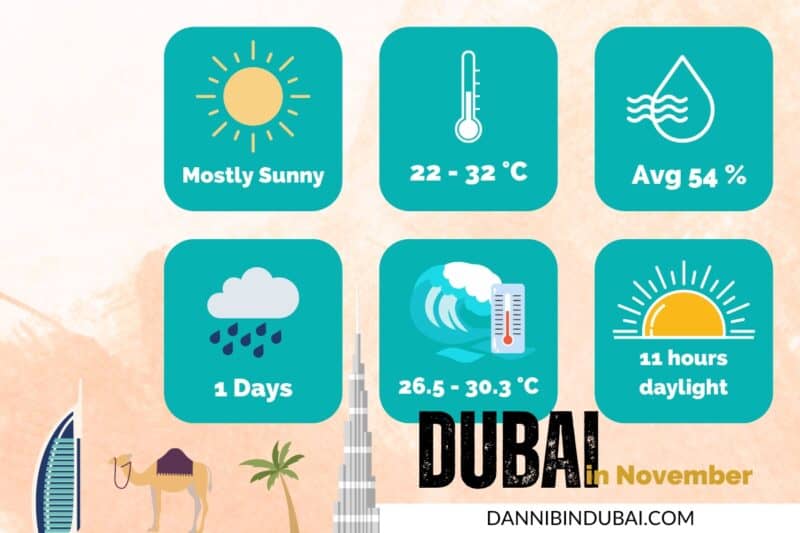 The weather in Dubai during November is typically quite pleasant and ideal for sightseeing along with other outdoor activities. Average temperatures range from 28 – 32 °C (82 – 89 °F) with the average humidity levels being 51 to 53%.
Generally, the skies are sunny but you may find the occasional light shower or thunderstorm during the month. However, Dubai's climate overall has a very low amount of rainfall compared to other countries standards and it's unlikely to impact your holiday or vacation.
The weather in November is perfect for exploring many of the city's attractions and there is usually an air-conditioned shop, mall or attraction nearby if you do get too hot. There are even air-conditioned bus stops and public transport is air-conditioned too since it can still get quite hot during the day even during November.
Past weather in Dubai in November
In recent years, the temperatures in Dubai have been quite consistent during November. In 2022 and 2021, highs ranged between 28 to 29 °C (82 -84 °F) towards the end of the month, with 31 to 32 °C (87 – 89 °F) highs at the beginning of November. Lows averaged around 22 – 25 °C (71 – 77 °F).
Humidity levels were generally low but have on occasion reached as high as 80% in early November.
Rainfall has been very low historically with the odd thunderstorm or light shower of rain during the whole of November for the past 10 years. So there's no need to pack any items such as an umbrella, raincoat or waterproof boots.
Fog in the mornings especially, however, is more of a common occurrence in November and some people love to go high up to take pictures of Dubai's skyscrapers peaking out from the fog. Giving an ethereal look to Dubai.
Rain in Dubai in November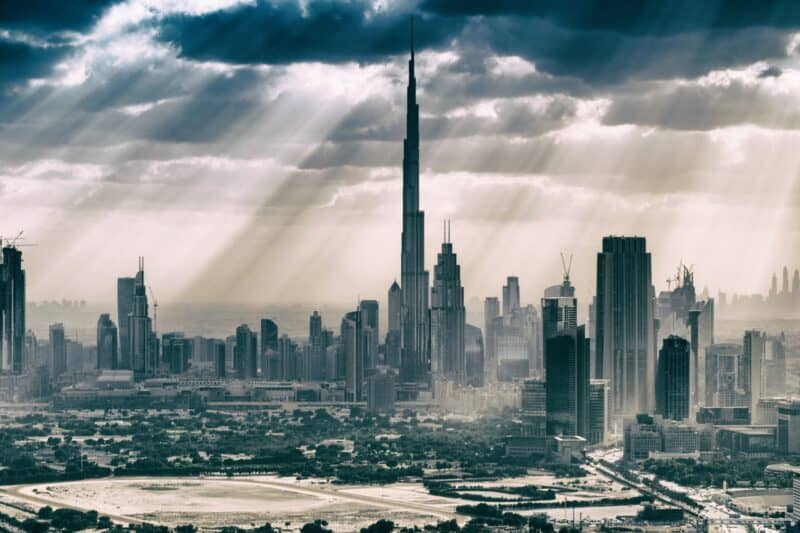 Rainfall is not common in November, although the amount of rainfall varies from year to year. It's typical to have one light shower or thunderstorm for the entire month. Some years there's been no rainfall at all. The average rainfall for November is 8mm.
2022 saw one thunderstorm for a few hours on the 22nd of November, while 2021 saw no rain or thunderstorms at all. So rain is highly unlikely to ever affect your trip to Dubai even if it's for a weekend.
Is November hot in Dubai?
November in Dubai is not considered hot by local standards but if you're coming from a cold country then you may think November is hot. The average daytime temperature hovers around 28 – 32 °C (82 – 89 °F) and only drops by a few degrees in the evening. Humidity levels can be high at the beginning of November which will make it feel hotter, ranging from 50% – 80%.
What season is November in UAE?
November in Dubai comes under Fall or Autumn, as Dubai is part of the northern hemisphere. Despite this it is still a warm month in Dubai, the temperatures will start to drop off slightly as it gets closer towards December but temperatures will continue to be pleasant across the whole of winter. In the high 20s and low 30s for most of the month, that's in the 80s for our American Fahrenheit friends.
Can I swim in Dubai in November?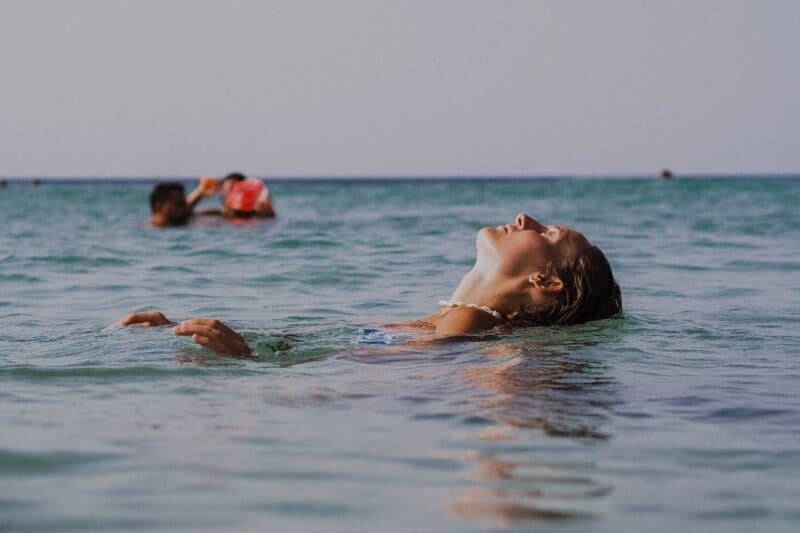 Yes, you can definitely swim in Dubai during November, in fact, it is a lovely time to swim in Dubai during the month. The sea temperature remains at a comfortable 26.5 to 30.3 °C (79.7 to 86.5 °F), meaning the water will feel warm and is similar to the temperature of a heated pool.
At this warm, especially for sea temperatures, it is recommended for lighter swimming activities since you don't have the refreshing effect of the cooler water.
Activities to do in Dubai in November
November is an ideal time for visitors to experience the perfect mix of sun, sand and sea. Here are some of the must-do activities when visiting Dubai in November:
Visiting the Dubai Desert Conservation Reserve
Explore the protected wildlife of the Dubai Desert Conservation Reserve, an area of over 3,000 square kilometres. Here you can experience nature in its untouched form and observe the wildlife up close. You can choose to visit here as part of a desert safari, which will include sandboarding, camel rides and various other activities.
Shopping at Dubai's markets and souks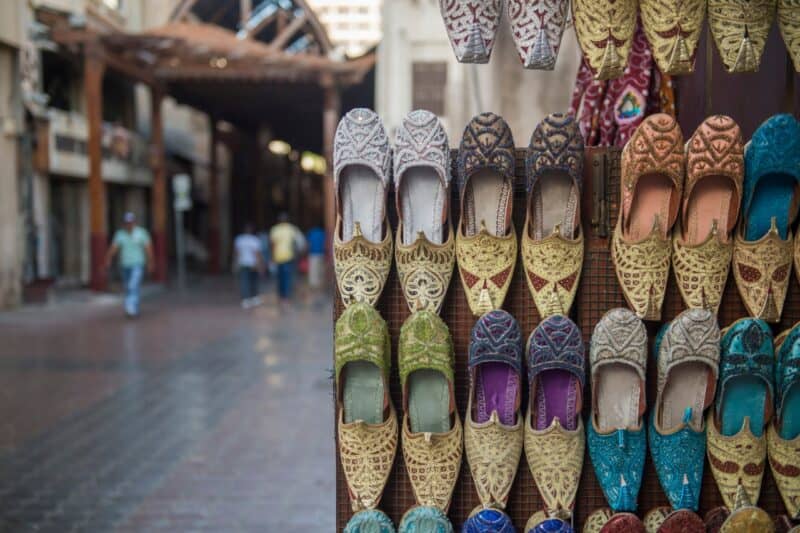 Dubai is well known for its traditional markets and souks, where you can find anything from exotic spices to designer goods. The Deira Souk in particular is a great place to explore and bargain with the locals over items such as gold jewellery, carpets and souvenirs.
Enjoy a beach day at Kite Beach
Kite Beach is one of the most popular beaches in Dubai, where you can enjoy swimming and various other activities such as beach volleyball, kitesurfing and yoga. November is a great time to visit this beach due to the pleasant weather.
Trying out watersports such as kayaking, paddle boarding or kitesurfing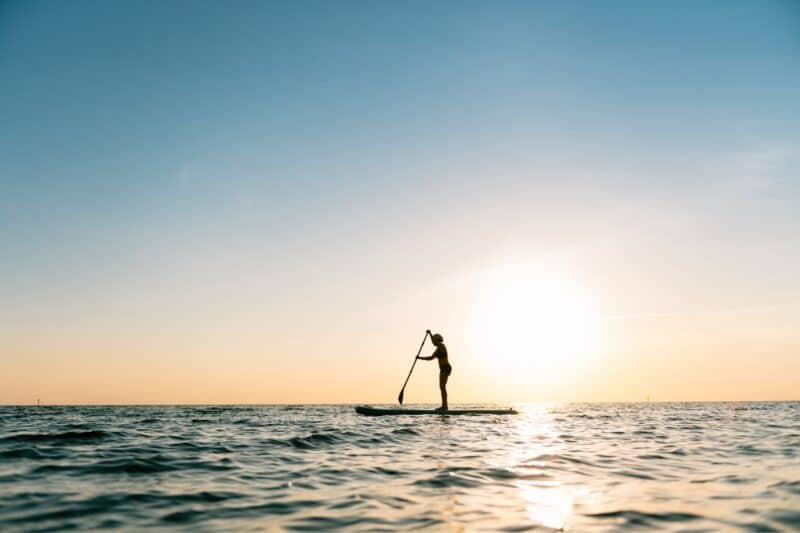 The waters around Dubai offer some of the best opportunities for watersports in the region. Whether you want to try out something new or just relax and enjoy a leisurely activity, there are plenty of options for you to choose from.
Visit one of Dubai's famous waterparks
If you're looking for a fun-filled day out, Dubai has several excellent waterparks where you can enjoy thrilling rides and activities such as the Wild Wadi Waterpark or Aquaventure. You can learn more about Dubai water parks in my previous article.
What to wear in Dubai for November
November in Dubai can still be quite hot, so visitors should plan their wardrobes accordingly. Lightweight and breathable fabrics are advised such as cotton, linen or silk. Avoid wearing tight clothing to ensure maximum air circulation and comfort. Loose-fitting shorts and t-shirts are ideal for casual days out exploring, while a long sleeve shirt or cardigan should be taken for evenings or for air-conditioned spaces. Especially if you plan to go to the desert at night or mountains as it can be up to 10 degrees cooler as you go higher up.
What to pack
Lightweight and breathable fabrics like cotton, linen or silk
Loose-fitting shorts and t-shirts
Long sleeve shirt or cardigan
Sandals or flip-flops for beach days
Sunglasses
Hat/cap to protect from the sun rays
Sunscreen
Comfortable shoes for sightseeing trips
Swimwear
Light jacket for indoors and if in more remote locations in the evening
Smart or dressy outfit with shoes or heels
Perfume or cologne
Small bag or backpack
Adapter
Camera or Camera Phone
Charger
Other November FAQs
Is Dubai cheap in November?
No, November is one of the most expensive months to stay in Dubai due to the large amounts of events during this period. Accommodation and other services are priced higher than usual, so it's best to save up before planning a trip here in November.
Some of the events in Dubai during November:
DP World Tour Championship: An annual golf event, the championship takes place between 5th and 8th November at Jumeirah Golf Estates. As one of the most prestigious tournaments in the world, it features some of Europe's best golfers competing for the title.
Dubai Watch Week: Held between 11th-15th November, Dubai Watch Week is a five-day event that celebrates the world of watches and watchmaking.
Dubai Design Week: Taking place between 15th-21st November, the event is a great opportunity to discover some of the best design works from around the world. There's also plenty of talks, workshops and exhibitions that visitors can check out.
The Abu Dhabi Grand Prix also happens in November so many people stay in Dubai and then drive to Abu Dhabi.
Do I need a jacket in Dubai in November?
No, a jacket is not necessary in November as the temperatures are quite warm. A light cardigan or long sleeve shirt should be enough to keep you warm during the cool evenings or if you decide to visit a more remote location. Though it can be best to take a blanket or a slightly thicker jacket if you're planning to go to Hatta or other mountain ranges in the UAE.
Why is Dubai so expensive in November?
November is a busy month for tourism in Dubai due to the many key and large events that take place during this period such as DP World Tour and Dubai Design Week. This high demand means that prices of services such as accommodation tend to be higher than usual.
Finally the weather is also a factor since the best weather months to visit Dubai are from November through till March, when the temperatures are warm but mild and the humidity is lower. You can enjoy both indoor and outdoor activities in Dubai during this month.
Conclusion
Overall, November is a great time to visit Dubai and take part in various activities. From the DP World Tour Championship to the Abu Dhabi Grand Prix and more, there are plenty of exciting events that visitors can enjoy during this month. Additionally, with warm but mild temperatures and lower humidity levels than other months, it's an ideal time for both indoor and outdoor activities. Just remember to bring along lightweight clothing materials like cotton or linen as well as comfortable shoes for sightseeing trips! So now you know the weather and what to expect, you'll be equipped to make your trip a memorable one, enjoying all that Dubai has to offer in November.