October is an exciting time to visit Dubai. However, there are some factors you should be aware of before planning any activities such as expected rainfall levels, humidity levels, average temperature range and more. To help you prepare for your trip or stay here in Dubai during October, I've compiled all the key points about the weather so that you can plan accordingly along with suggested activities for October. With over 10 years of experience living in and exploring Dubai, I am here to provide you with all the information you need to know about what it's like weather wise here in Dubai during October. So read on for everything you need to know about what it's like weather wise here in Dubai during October! So if you're looking for an expert guide on the weather in Dubai during October, look no further!
Is October a good time to visit Dubai?
Yes, October is generally a good time to visit Dubai and the United Arab Emirates. However, be aware that average temperatures can reach up to highs of 35 degrees Celsius (95 °F) so it's best to plan your activities, such as avoiding the middle of the day or especially strenuous activities during the day and make sure you stay well hydrated. It's also best to take breaks from the heat to avoid heatstroke.
As it gets towards the end of October, Dubai continues to cool down as it gets close to winter so you'll experience cooler temperatures at the end of October versus the beginning. Though there still won't be any need to pack any clothes for cooler weather, only light jackets for air conditioned venues. Cinemas in particular can be pretty chilly in Dubai. The only exception to this is Dubai's Ice Bar or of course the famous Ski Dubai in Mall of Emirates.
Also, I wouldn't advise splurging out on a Dubai beach resort or beach club during this month unless you're very comfortable with hot temperatures, as you may find your time on the beach is limited during the day.
Dubai weather October summary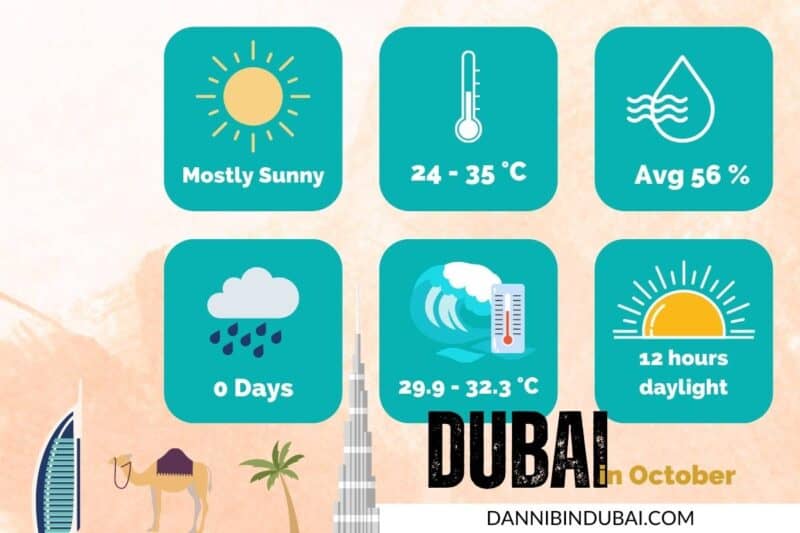 The temperature in Dubai during October ranges from 24 °C (75 °F) to 35 °C (95 °F). It is generally sunny during this month but the evenings may become cooler towards the end of October. Humidity levels can reach up to 75% and again this will usually be more towards the beginning of October.
It's extremely rare to get any type of rainfall in October with most years having reported zero rainfall in October. Sea temperatures are also warm, so more ideal for casual swimming than more athletic swimming in the sea. Generally, swimming pools in Dubai resorts tend to be heated to around 26 to 28 °C.
In case you're wondering, Abu Dhabi has almost identical weather to Dubai. So if you're planning a day trip to Abu Dhabi from Dubai. Then it's highly likely to have the same weather.
Past weather in Dubai in October
In October 2022, Dubai had sunshine for the entire month of October with Zero rainfall. In the first week of October we saw highs of 37 °C to 36 °C with lows of 29 °C. By the end of October 2022, temperatures had reduced with highs of 33 °C to 34 °C and lows of 25 °C to 26 °C.
There were some mornings of fog over the last decade during October, so if you're planning to visit Burj Khalifa or other high buildings with a view. It can limit visibility but it is also a very unique and beautiful sight if you're wanting the catch the fog. It'll look like you're hovering above the clouds.
Rain in Dubai in October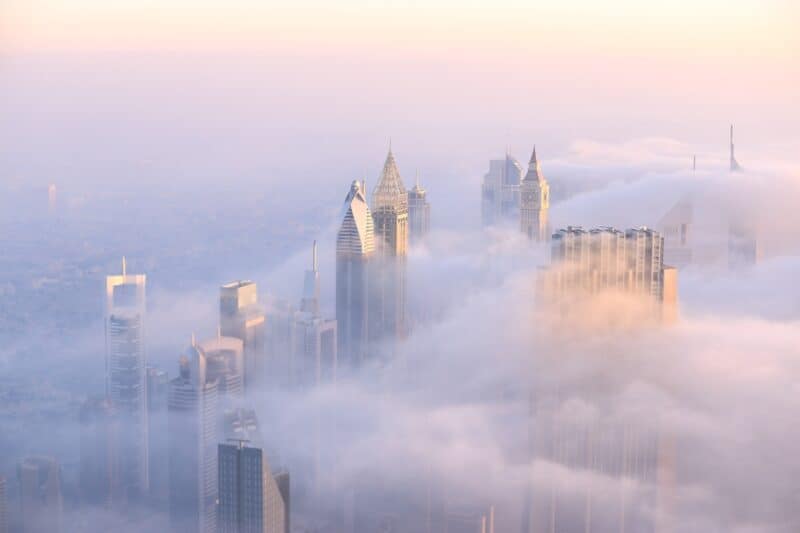 During October, Rain in Dubai is not a common occurrence at all. According to Weather Spark when looking through Dubai's historical weather during October over the last 10 years, there's only been 1 day of light rain which lasted an hour or so in 2014. There were also some rare days in October 2018 & 2019 where a freak hail storm occurred lasting a few hours (I remember these well as it was highly unusual!) but not to worry!
Overall, the weather pattern in Dubai during this month is mainly dry and sunny. So you can likely expect zero days of rainfall if you're planning to travel for your vacation or holiday to Dubai in October.
Is Dubai very hot in October?
The temperature in Dubai during October is still pretty warm but thankfully evenings and nights do start to get cooler in this month. It's common in the first half of the month for temperatures to reach 37 °C (98 °F) during the peak hours of the day, the humidity levels remain low making it comfortable for visitors and locals alike.
What season is October in UAE?
October in Dubai is classed as Fall or Autumn. So while Dubai and the Middle East is part of the northern hemisphere and hence has the same seasons, Dubai has very different weather compared to places like Northen America and Europe. This is due to its desert climate.
Temperatures do start to drop in Dubai like other many other countries in Autumn but Dubai's desert climate and location closer to the equator means it stays warm all year round.
Can you swim in Dubai in October?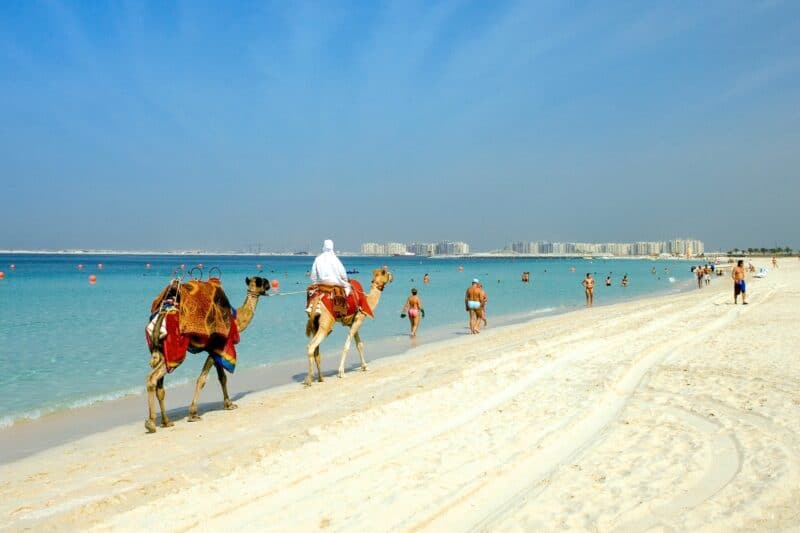 Yes, swimming in Dubai during October is definitely possible. Especially if you love swimming in warmer seas. The water temperature of the Persian Gulf is generally warm throughout the year and at the beginning to get cooler in the month of October. Though night sea swimming is popular during the summer in Dubai.
The sea temperature off the coast of Dubai is usually between 29.9 to 32.3 °C (85 – 90 °F) in October.
Activities to do in Dubai in October
Enjoy an evening desert safari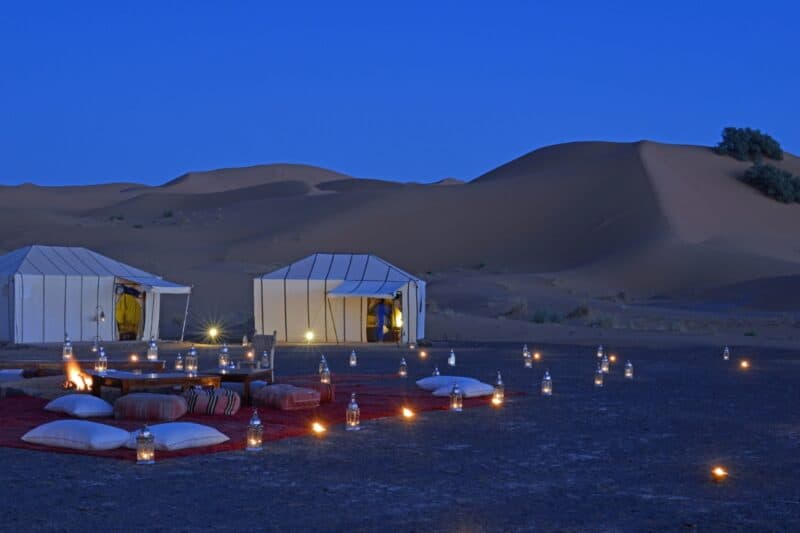 October is a great time to explore the desert of Dubai with an evening safari. Take in the stunning sunsets and warm temperatures as you experience traditional activities such as sand-boarding and camel rides.
Have a traditional Emirati dining experience
Experience the delicious flavours of Dubai with a traditional Emirati dining experience. Sample local dishes such as Machboos (rice with meat, flavoured with Arabic spices), Luqaimat (fried doughnut balls with cardamom) and Khamir bread (sweet bread decorated with sesame seeds).
Explore Dubai's Burj Khalifa and its observation decks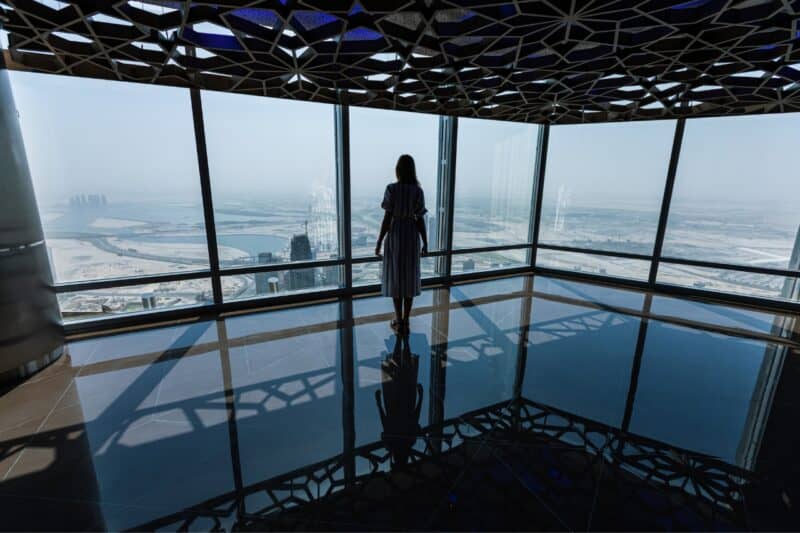 The Burj Khalifa is the tallest building in the world, standing at 1 km meter tall. Take a trip up to the observation decks and marvel at the incredible views of Dubai and beyond.
Other indoor options include Dubai Mall, Dubai Frame and Dubai Museum of the Future. There's really a lot to choose from in the day where the safety of the air-conditioned areas are to be enjoyed. Especially around Dubai city, these are areas such as Downtown Dubai and DIFC.
Take a tour of Burj Al Arab
The iconic Burj Al Arab is one of the most well-known landmarks in Dubai. Take a guided tour and see the many luxurious features of this seven-star hotel, including its restaurants, spa area and infinity pool on the terrace.
What to pack for Dubai in October
Here are some essential items to take with you:
Sunglasses: The sun is really bright and Dubai loves shiny buildings, so make sure to take your glasses. Extra points if they're designer.
Sunscreen: If you're planning to stay in the sun for long periods, you'll definitely need a minimum of sun proof factor 30.
Hat or cap: It can still be pretty warm in Dubai during October, so taking a hat to protect your face from the sun will definitely come in handy.
Lightweight and breathable clothing: The humidity and heat can become quite uncomfortable if you're not dressed appropriately, so make sure to choose light coloured that breathe, such as linen or cotton.
Light jacket: It's unlikely you'll need it for the evenings but sometimes the air conditioning can be chilly!
Swimsuit: There are plenty of pools and nice beaches, so make the most of it and have a nice cooling swim.
Comfortable walking shoes/sandals: Dubai is very clean you can enjoy walking around in open-toe sandals and if you're planning to visit the souks of Dubai, you'll definitely need comfortable walking shoes
Smart outfit: Dubai is somewhere people love to get dressed up so make sure to pack at least one outfit to impress and make the most of the foodie scene.
Camera: Or these days your camera phone. There are so many Instagram-able places, you'll definitely want to make sure you have a high quality camera.
Adapter: Dubai uses the G Type plug and 220 volts, so if your country differs you'll need an adapter.
Small bag or backpack: You'll very likely spend all day out exploring Dubai, so it's best to take a bag with supplies for the day! Dubai has very low crime rates, so no need to worry about an anti-theft wallet or purse.
Other Dubai weather FAQs
Which month is coldest in Dubai?
The coldest month in Dubai is January with February a close second. However, temperatures are still very warm compared to most other countries. Usually, the lowest temperatures can drop to is 14°C (57 °F) with highs of 24°C (75 °F), though last year was warmer than usual with lows of 19 °C (66 °F).
What is Dubai's hottest month?
The hottest month in Dubai is usually August, when temperatures can reach up to a scorching 45°C (113 °F) but this is rare. Usually, you'll see temperatures between 38 to 40 °C (100 – 104 °F). It also doesn't get cold in the night with lows of 31 °C (87 °F), however, due to the high humidity levels during the summer it feels a lot warmer.
I have tried to walk places in July in the night and it's great for losing weight or wanting a free sauna but definitely not if you want to turn up anywhere looking presentable.
Which is the best month to go to Dubai?
The best months to visit Dubai are usually from November through to April when the temperatures are milder and there is less humidity. November in particular is a huge month for events such as Dubai Yacht Week and DP World Tour.
October can still be a great time to explore all that Dubai has to offer but it is warmer which can make daytime activities more difficult.
Conclusion
October is a great month to visit Dubai. The temperatures are starting to get milder and the humidity levels are reducing too, making it more comfortable for visitors and locals alike. While daytime activities can be difficult due to warm weather, this is still the perfect season to explore all that Dubai has to offer! From exploring the Burj Khalifa observation deck to enjoying an evening desert safari. You're bound to have an amazing time in Dubai! Just don't forget to pack your sunny weather things, such as sunglasses, a hat and sunscreen when visiting during October so you can make the most of your trip!
Enjoyed this article? Give it a share!