Dubai is a coffee-lover's paradise, with a rich history in Coffee and an abundance of cafes. Some of the best coffee spots in the world can be found here not only the best cafes in Dubai, offering the latest coffee brewing methods and trendiest bean blends. experiences that Dubai has to offer. Trust me, you won't want to go back to mediocre coffee after trying some of the finest blends this city has waiting for you!
I've drank A LOT of coffee during my time in Dubai and I've visited the majority of cafes that exist. Dubai has a lot of cafes! I'm someone who probably spends way too much time sitting in cafes. Whenever a new cafe opens, I'm usually one of the first there.
So these really are some of the 27 best cafes in Dubai you can find! Regardless if you just want low-key good coffee or the type of venue you feel absolutely royal drinking in. This list has them all!
The Middle East and Coffee
Coffee in the region dates back to the 7th century when the Arabica plant was first introduced to Yemen from Ethiopia. Though your traditional Gahwa is a different style to Italian coffee most of us are used to in Europe. Coffee overall is hugely popular with Arab nationals from across the Middle East and even drink it late into the night.
Definitely one of the best things about Dubai is how late the cafes stay open, especially coming from UK or Europe where cafes often close at 6 pm. So while you may not find the morning coffee culture here but you will see these places come alive from the early afternoon till late!
So here are the top cafes to get the best coffee in Dubai!
The best cafes in Dubai with the best coffee
These are in no particular order and is based on the coffee not on the food. Some of the cafes have quite a large food offering, while others are pretty much only pastries. If you're like me and you like to eat all the time, then I've added which ones have a decent menu for you to enjoy with your coffee.
1. Cassette – Al Quoz
A trendy cafe in an equally lovely location! Parisian inspired, this cool hangout offers a multi-use space and even has little shopping areas for you to check out as you wander around. It's certainly one of my most unique places in Dubai.
They're also focused on sustainability, the cafe interiors are made using claimed materials and ingredients are sourced from local farms based on seasonality.
Coffee wise, they offer your usual options such as latte, espresso, flat white and a few other interesting options but mostly focused on classic coffees.
Make sure to wander around the courtyard after you've finished. There's also an art gallery and a theatre located there.
They also have a decent sized menu and some gluten free plus vegan options.
Key information
Location: The Courtyard, 4B Street, Al Quoz
Rating: 4.5 out of 5
2. Neighbors – Umm Al Sheif
I honestly think this is still one of the most underrated cafes in Dubai because whenever I go, it isn't that busy. Which is likely to its slightly hidden location. With a decent 4.4 stars out of 5 according to Google, clearly I'm not the only one who thinks so.
It's one of the best cold brews I've ever had and the staff are really well trained. Too many places in Dubai serve inauthentic cold brew, so I can usually tell if a place is decent by their cold brew. The staff trained here can talk about coffee for hours!
They have cool industrial style interiors which make to feel casual and a small amount of outside seating. There is free underground parking, which is for all the businesses located here on Al Thanya Street.
I may not have even discovered this place if it wasn't thanks to the random Japanese man coming out of the lift who told me to check it out and I'm so glad he did. Thank you random Japanese man!
Offering all your typical coffee classics along with a few more interesting and different options such as rose flavour, lavender flavour or even with activated charcoal!
Also has a decent sized food menu.
Key information
Location: Al Thanya Street, Umm Al Sheif
Rating: 4.4 out of 5
3. Lime Tree Cafe – Jumeirah, SZR Umm Al Sheif, Motor City, Al Quoz, Town Square, Springs & Palm Jumeirah
I like their food even more than their coffee, sorry I know it's supposed to be about coffee but they have a really good range of food. The coffees are a decent size too and the staff have always been very friendly whenever I've gone.
It's also one of the homegrown brands in Dubai and you may even see one of their little treats on your Emirates flights. Lime Tree first opened in 2001. It was also one of the places I fell in love with back in 2013 when I first moved.
Coffees are mostly focused on the classics such as lattes and you won't find a huge varierty of beans or blends here but you can get an amazing cake to eat there or take home.
It's also family-friendly and perfect for a casual coffee or meal with friends. They have lots of gluten-free options too but they can be sold out if you go in the evening.
The Jumeirah and Al Quoz branch closes quite early for Dubai at 6pm, so make sure to check times before you go. Also we've gone before to SZR and found it closed but their website says 9 pm, so perhaps they've extended the hours.
Key information
Location: Jumeirah Beach Road, Jumeirah 1 (Flagship Cafe)
Rating: 4.4 out of 5
4. Nightjar Coffee Roasters – Al Quoz
This place is super cool and looks more like a bar than a cafe. They even have coffee on tap that is served like beer. If you like really unique blends, this artisenal cafe and roastery is for definitely for you.
Decked out with wooden benches and dimly lit lights, it's the perfect spot for those wanting to hide away from the Dubai crowds and enjoy a good coffee. You'll also find people working away on their MacBook pros here. If you're planning to work here, make sure to bring a G type plug for Dubai.
Tucked away in the very cool Alserkal Avenue in Al Quoz Dubai, you definitely won't get bored here. After you've finished your coffee, you can wander around a chocolate factory, an art gallery, enjoy a film or watch a band at the local venue.
They serve some really cool experimental coffees and you can try different cold brew infusions along with your barista made lattes, flat whites and more. They also sell their own sourced coffee beans and unique coffee bean blends.
The only one downside is the customer service can be a bit hit or miss, we had a similar experience to other reviews where the staff weren't very helpful. Also be aware it does close earlier compared with other cafes in Dubai at 8:30 pm and food stops earlier than the close time.
Key information
Location: Warehouse G62, Alserkal Avenue, Al Quoz
Rating: 4.3 out of 5
5. Boon Coffee – JLT, Palm Jumeirah, Al Barsha, Meadows, Jumeirah Park & Downtown Dubai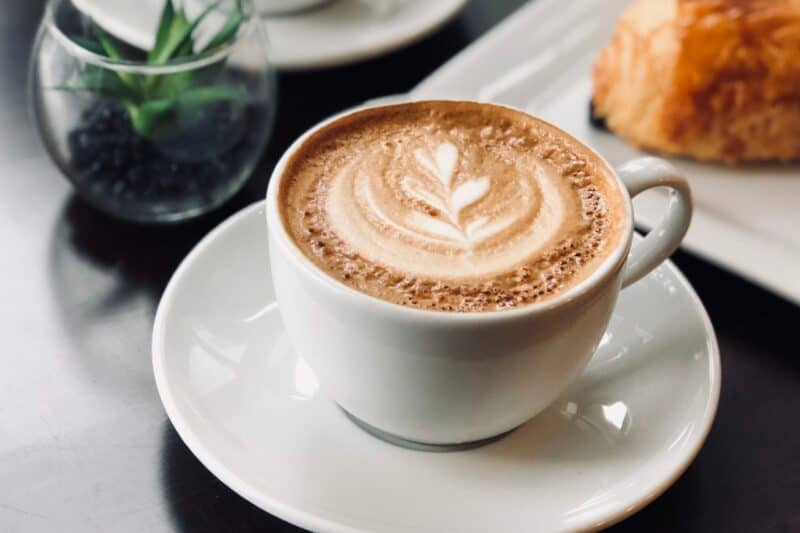 Boon Coffee is a specialty coffee roaster and with several cafe locations across Dubai, so you're sure to find one not too far away. They buy directly from farmers in Ethopia, create their own blends and roast them in Dubai. Dealing with only the finest organic coffee beans.
I came across this place by accident, I was wandering around Nakheel Mall and the amazing gourmet food hall. The copper coloured coffee machine caught my eye, so I decided to take a seat and wow! What a good coffee it was. It made me stop and compliment the barista. One of the best I've had in Dubai.
From sourcing sustainably grown beans to hand blending unique flavors and aromas, their commitment to excellence goes beyond the cup. It's also a female founded business! Orit Mohammed is from Hajar in Ethopia, the birth place of coffee.
The cafe is mostly focused on your classic coffees such as espresso, latte and the popular Spaish latte. Along with speciality brewed coffes such as Chemex, V60 and Aeropress.
They offer a few light bites such as pastries, sandwiches and cakes but the main focus is coffee. With friendly baristas, cozy seating and great coffee. It's the perfect spot for coffee connoisseurs and casual drinkers alike.
Key information
Location: Ground Floor, Depachika Food Hall, Nakheel Mall, Palm Jumeirah (Flagship)
Rating: 4.3 out of 5
6. Black Coffee by Cafe Younes – Trade Centre
A newer one on the Dubai scene but has already made a name for itself! Though Cafe Younes isn't new to the coffee making game, they've served and roasted coffee since 1935 in Lebanaon. Serving up only the finest black coffee beans, they've perfected the art of making coffee that is sure to awaken your senses.
You can also enjoy watching the coffee actually being roasted here which not only smells amazing but is oddly theraputic seeing the beans rotating round.
Focused more on South American beans and blends, though they do offer coffee beans from all over the world. Offering a wide range of coffee, teas and hot chocolates. They also offer coffee masterclasses, bean blends to take home and other coffee related items.
The menu is what you'd expect from a cafe, mixture of breakfast, brunch and lunch style items. Though the options are pretty diverse and a few larger items if you are really hungry.
Key information
Location: Duja Tower, Sheikh Zayed Road, Trade Center Area
Rating: 4.7 out of 5
7. Tom & Serg – Al Quoz
Dubai doesn't really have hipsters, not in the true sense anyways, but if we did this is where they'd hang out. So let your inner hipster out and enjoy a coffee here.
Inspired by the coffee scene in Melborne, this cafe was founded by an Aussie and a Spaniard. The interior boasts bright, airy vibes and plants dotted around the entire place.
The offer speciality coffees such as Syphon, Chemex and V60 or your classic French Press. There isn't a huge range of beans, however they do have really good fresh food. So definitely make sure to have a bite here with your coffee.
Key information
Location: Al Joud Centre, 15A Street, Sheikh Zayed Road, Al Quoz
Rating: 4.3 out of 5
8. Mokha 1450 – Al Bada'a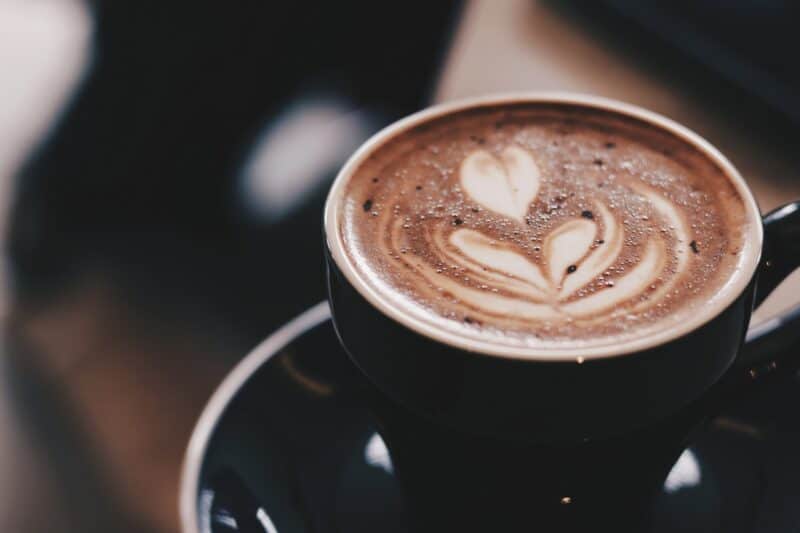 This is a cafe which only true coffee aficinados will tell you about. If you're serious about coffee and love rare beans or blends. You'll love this place! This boutique coffee shop is definitely one for those who are really passionate about coffee.
This cafe serves some hard to find coffee beans. Including Jamaican Blue and Yemeni coffee beans. They offer your classic coffee and brewed speciality options such as Chemex, Mr Clever and V60.
They're a small cafe with a Morrocan feel and low key interiors. Mokha 1450 pride themselves on having some blends that are only available here. Not just not anywhere else in Dubai but not anywhere else in the world!
They also have a second location at Golden Mile on Palm Jumeirah but I haven't tried this branch, so I can't tell you if it lives up to its main branches reputation. You can also take beans for you to enjoy at home.
Key information
Location: Al Wasl Road, Al Bada'a (Flagship Cafe)
Rating: 4.6 out of 5
9. Jaimaica Blue – Dubai Festival City, Al Khawaneej, Ibn Battuta & JVC
If you know what Jaimaican Blue coffee is, then you're a real coffee fan! This cafe has several locations but I'll always travel for a Jaimacan Blue coffee! It is more expensive than your standard coffee but it's really worth it for the taste.
The café offers an inviting atmosphere with open spaces and welcoming staff. It's more casual and feels more like a traditional coffee chain in terms of the interiors. It was originally a chain from Australia. The menu includes breakfast options, sandwiches and desserts.
If you're one of those people who likes to put syrups in your coffee, this isn't for you. You can't ruin a high quality coffee like that. Though they do also do regular coffees without Jamaican Blue beans if you really must insist on adding a syrup to your coffee.
Key information
Location: Jumeirah Beach Road, Jumeirah 1 (Flagship Cafe)
Rating: 4.3 out of 5
10. EL&N – DIFC
EL&N Cafe in DIFC, Dubai is a vibrant cafe located in the heart of Dubai's most prestigious financial district. If you're wanting an TikTokable or Instagramable cafe. Their pink flowery interiors and matching photogenic drinks will be perfect for you.
A few of my favourite things about EL&N is firstly they have nice comfy seats which seems to be rare in trendy cafes these days with wooden seats and benches. Secondly, they train their staff well and customer service is really good. Finanlly they're from London originally so I lowkey love supporting a British brand. (You can take the girl out of London but you can't take London out of the girl.)
Food wise, it's your typical cafe style options with a focus on breakfast items, brunch and desserts. Most of their dishes are also served in a very instagramable style. EL&N is definitely more of your sit and enjoy a coffee or lunch with the ladies rather than getting a quick take away coffee.
Key information
Location: Gate Village 02, DIFC
Rating: 4.3 out of 5
11. Raw Coffee Company – Al Quoz
This Dubai coffee shop is a classic and have grown to a very spacious warehouse and is truly a sight to see with workshop rooms on the top levels. For those who've been in Dubai for years, we recall fondly when it was a small shop tucked away in an alley in Al Quoz and only open until 6pm..
It has a laid back slightly rustic feel. Not only do they source, import, and roast organic fair-trade beans, but they also supply many restaurants, hotels, and a cafe. You might have already tasted their coffee without realising it!
They also have coffee making classes and other training workshops. So you can take your love of coffee even further!
This is a regular place myself and my friends love to meet at because the coffee is so good.
Key information
Location: Warehouse 10, 4A Street, Al Quoz
Rating: 4.5 out of 5
12. Heal – Umm Suqeim
Heal is a specialty coffee shop in Dubai and lifestyle brand, serving up the freshest and most delicious brewed beverages around. The cozy neutral coloured interiors create the perfect atmosphere for winding down after a long day or for enjoying some quality time with friends.
Every cup of coffee is made with locally sourced ingredients and is dedicated to bringing you the best tasting brews. Stop by today and see why Heal is one of the top destinations for specialty coffee in Dubai.
They also have a boutique store with hand crafted products and earthy aesthetics. So pick up some aesthetic home items after your coffee!
Key information
Location: Villa 30, Al Manara Road, Umm Suqeim 2
Rating: 4.4 out of 5
13. Baristas' Corner – Business Bay & Palm Jumeirah
Baristas' Corner is a speciality coffeehouse founded by an Emirati entrepreneur with a passion for coffee. Baristas' Corner serves a wide variety of handpicked, exceptional-grade coffees, artisanal teas, and fresh pastries.
Beans are sourced from sustainable farms and roasters around the world and honours the growers' cultivation and roasting.
At this spot, something special is brewing! The baristas work their magic, following precise methods to produce the perfect cup of coffee every time. They're experts in both classic and speciality brewed coffees like Phoenix 70 and Chemex. They also serve traditional Emirati Arabic coffee which not all cafes serves.
Food is mostly pastries and desserts, so if your wanting somewhere just focused on good coffee. Here is for you.
Key information
Location: Ground Floor, Canal Central Hotel, Marasai Drive (Main branch)
Rating: 4.4 out of 5
14. Cake – DIFC
Cake is a modern patisserie and café that's all about the cake! The amazing pastry team make an elegant selection of cakes and pastries daily, using only the freshest, highest quality seasonal ingredients.
Though they've also got really good coffee too. They've got you sorted on drinks, teas, juices, milkshakes and smoothies too. Along with a range of fresh sandwiches and salads, ideal for breakfast or lunch.
You might be surprised by their rather relaxed interiors considering it's in the Ritz Carlton and their large plush seats make it easy to sit here sipping coffee for hours.
Key information
Location: Ritz Carlton DIFC, DIFC
Rating: 4.3 out of 5
15. Vibe Cafe – Al Wasl & DIFC
Vibe Cafe is the perfect spot for a relaxing afternoon. Whether you're looking to grab a quick bite, enjoy some of the best coffee or spend a few hours with friends, Vibe Cafe has something for everyone in its stylish interiors. If you're needing a cafe that'll look stunning on your socials, this is it!
Sticking to the classics, they offer both hot and cold coffees. Cappuccino, latte, Spanish latte and more. Syrups are available in the classic flavours of vanilla, caramel and hazelnut. Teas, juices, super food lattes and other soft drinks are available too.
They also have vegan, keto desserts and gluten free options, yum! Along with a very large menu with lots of options, whether you want a healthy bite to eat or something more indulgent.
I've been here for a ladies coffee morning on the weekend and it was the perfect venue for this. We all thoroughly enjoyed our coffees and many of the ladies are regulars here.
Key information
Location: Unit 30, Lamar Building, Al Wasl Road, Al Wasl (Main Branch)
Rating: 4.4 out of 5
16, Brunch & Cake – Jumeirah Islands, Palm Jumeirah & Al Wasl
Brunch & Cake is a delightful all-day dining spot that started in Barcelona and is famous for its wholesome delights, inviting spaces, and generous portions. With quality ingredients, authentic recipes, and organic produce, the restaurant offers a great variety of healthy and hearty dishes to enjoy with friends.
When I visited the Brunch & Cake Al Wasl branch, we really experience great customer service and the gluten free pizza along with of course the coffees were amazing. I enjoyed a decaf coffee (yes I was pregnant) and it was really tasty.
If you're wanting somewhere still Instagramable or TikTokable without being in your face girly, this is a great place with photo and the Al Wasl branch has super unique pods to hang out in.
They offer a really good range of coffees with your classic coffees, speciality brewed and some unique coffees such as a Beetroot latte. Though I don't really recommend these or know why you'd want to ruin a good coffee.
Key information
Location: Ground Floor, 51 Al Wasl Road, Jumeirah 1 (UAE Flagship Cafe)
Rating: 4.5 out of 5
17. The Hamptons Cafe – Umm Suqeim, Jumeirah Islands & Arabian Ranches
Like the name suggests, the cafe is inspired by the lifestyle of The Hamptons in New York State, focused on elegance and charm.
Hamptons Cafe offers a calming oasis amidst the hustle of Dubai city life. With its beautiful terraces overlooking the Dubai skyline in Umm Suqeim or overlooking the stunning lake in Jumeirah Islands. Perfect for feeling like you've escaped to somewhere different.
I've been to both the Jumeirah Islands and Umm Suqeim branches many times, I'd actually say their Jumeirah Islands location is my favourite but be warned that both locations do get very busy. So if you want the best view on weekends, get there early!
Coffee's available are your classics with a few more unique flavours such as rose or beetroot. Don't ask me why Dubai likes these beetroot coffees.
They also serve a good range of foods. One of the more interesting drink options is their none alcoholic wine or a fresh coconut (see above – yes I know it's not a coffee but if you want something to enjoy after your coffee.) They are a bit on the pricier side compared to other cafes but the food is really good!
Key information
Location: Jumeirah St, Umm Suqeim 1 (Flagship Cafe)
Rating: 4.4 out of 5
18. Mara Lounge – Jumeirah & Downtown Dubai
Mara Lounge Dubai is a delightful place to relax and enjoy speciality coffee! The menu offers a wide variety of drinks to choose from, made with the finest ingredients. Offering classic coffee and speciality brewed options.
The atmosphere is cosy and inviting, with comfortable seating and plenty of natural light. Whether you're in for a quiet break or meeting friends for quality conversation. Best of all, you can expect excellent service from the attentive staff who are always happy to help.
Food is an eclectic mix of dishes from around the world, ranging from burgers to Japanese salmon. They also offer a good selection of desserts for those with a sweet tooth.
I went here when they first opened and I really enjoyed the food and coffee here, also I found them rather affordable compared to other options in Dubai. As the portions were pretty large.
Key information
Location: 323 Al Wasl Road, Jumeirah 1 (Flagship cafe)
Rating: 4.4 out of 5
19. Baker's Kitchen – Dubai Marina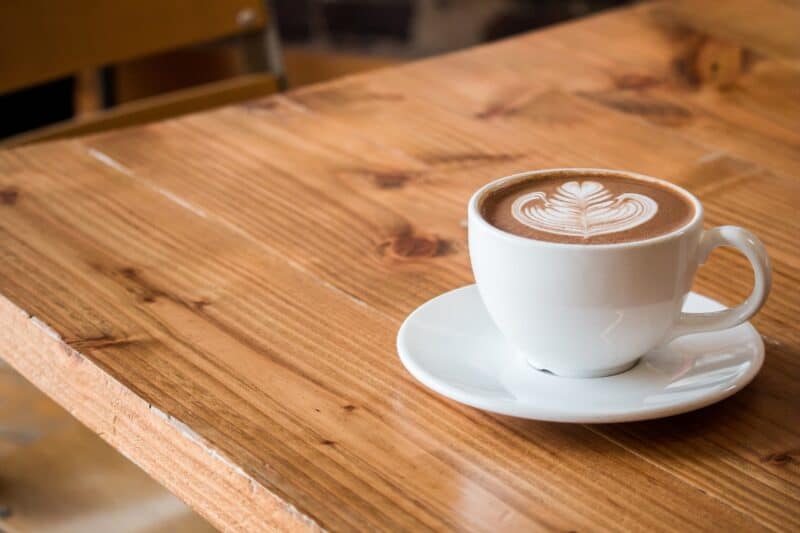 Baker's Kitchen really takes care with all of its ingredients, whether that's for its coffee or food. Specialising in bread with ingredients imported from Germany, they also make a very good cup of coffee.
Sticking to only the classic coffees and keeping it simple. You can enjoy their freshly baked goods with your latte or Americano.
Boasting a view of Dubai Marina, you can also choose to sit on their outdoor terrace in the bean bag chairs. The cafe is family-friendly with an area for kids to play with activities as well as offering baking classes for both kids and adults.
Key information
Location: Ground Floor, Dusit Princess Residences, Al Emreef Street, Dubai Marina
Rating: 4.4 out of 5
20. Splendour Fields – JLT
Splendour Fields is an Australian-inspired café that provides an array of delights. Sip on speciality coffee while you peruse their selection of freshly-baked goods. Admire the colourful array of flora at their in-house florist or browse their trendy homeware store.
Children will love the play area while adults can unwind in the laid-back atmosphere. So perfect for families!
They keep their coffee menu clean and simple with your classic coffees. You'll also find speciality brewed coffees such as Aeropress, Chemex and V60.
Key information
Location: The Park, Jumeirah Lake Towers
Rating: 4.6 out of 5
21. Mitts & Trays – Bluewaters & Dubai Hills
Mitts & Trays cafe is the perfect place to enjoy great coffee and delicious food to match. Step into this charming space and be transported to a modern haven in multiple locations across Dubai. The striking white interiors donned with resplendent brass accents give a homely yet elegant feel.
The pièce de résistance draws you in – an array of delectable, freshly-made cakes and desserts temptingly displayed in grand cabinets. Treat yourself to a delightful cup of coffee and indulge in a dessert. They have gluten free options too.
They stick to classic quality coffees along with teas and other beverages. You can find a wide selection of sandwiches, salads and healthier options too. The staff have always been friendly and helpful when I've visited.
Key information
Location: First Floor, Dubai Hills Mall, Dubai Hills Mall
Rating: 4.5 out of 5
22. Maxzi – Al Quoz
Indulge in gourmet food with exceptionally good coffee at this pleasant rustic spot. The staff are friendly and highly skilled at curating your perfect brew. They keep things simple with classic coffees and a selection of syrups.
Maxzi opened in Dubai 2018 and is a culinary gem brought to you by a gourmet food importer. Expect to taste fresh, all-natural beef, lamb, chicken and sustainable seafood that will tantalize your taste buds.
The restaurant avoids using products with artificial coloring, MSG, or preservatives. Maxzi's mission is to deliver a cost-effective and exceptional culinary experience, courtesy of top-notch ingredients sourced from across the globe.
They also offer a loyalty program, where if you get enough stamps you'll get a free coffee. They're also one of the most affordable cafes on the list too. Plus pick up some tasty food from their gourmet food supermarket after!
Key information
Location: Al Shafar Investment Building, Al Quoz
Rating: 4.6 out of 5
23. One Life Kitchen and Cafe – Dubai Design District & JVC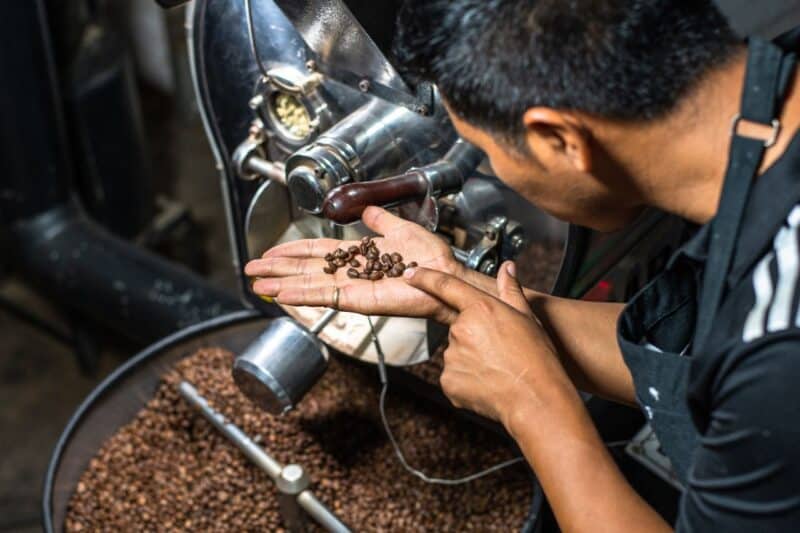 Located in Dubai, One Life Kitchin and Cafe serves its own medium to dark roast coffee beans which are roasted in-house. The cafe specialises in classic and specialty manual brew coffees with V60, Chemex & French Press available.
One Life Kitchen and Cafe is a restaurant, cafe, coffee roaster, catering company, workspace cafe, and host to community events in Dubai Design District.
They have a decent sized menu with many options ranging from fillet steak to french toast and breakfast items are served all day on weekends.
One of the only licensed cafes on the list, just in case someone asks you about alcohol being illegal in Dubai you can show them this cafe and how hard it is to get a drink here. LOL.
Key information
Location: Building 5, Dubai Design District
Rating: 4.5 out of 5
24. Stomping Grounds – Jumeirah
This cafe has gained popularity and has had the honour of being visited by notable figures such as Sheikh Mohammed bin Rashid Al Maktoum and Sheikh Hamdan, also known as Fazza. On the cafe's walls, photographs of these figures are displayed. Considering the patronage of royalty, one can assume that the coffee served here is commendable.
Running a cafe in Dubai can be a daunting task, let alone maintaining its popularity over the years. However, this particular one has stood the test of time with its unwavering charm, making it a local favourite for many since 2015.
I tried their Black Gesha coffee which was a really unique coffee with a very interesting flavour profile and floral notes. It was truly unique and a genuine pleasure to drink!
Key information
Location: 98 12D Street, Jumeirah 1
Rating: 4.5 out of 5
25. Arabica – Dubai Mall, City Walk, Palm Jumeirah, Mirdif, Mall of Emirates & Expo City
For the coffee aficionado, they offer an array of bean blends and single origins to satisfy every palate. You can choose from your preferred single origin or enjoy their house blend. They keep coffee simple, inspired by Japan, and stick to what they're good at. This cafe has taken off and expanded across many branches in a short span of time, likely thanks to this.
For the coffee aficionado, they offer an array of bean blends and single origins to satisfy every palate. Opt for their house blend or a bespoke concoction. The cafe stays true to their roots, keeping coffee simple while excelling at it. Their unwavering commitment has resulted in rapid expansion and successful growth.
I remember when this cafe first opened and I went with my friends to their branch in City Walk. My friend was so excited to take me as they knew I'd love the coffee.
Also, I love that the staff are friendly and they also do a rewards card if you drink there regularly. The only downside? There's normally a queue to get your coffee due to their popularity. Especially Dubai Mall and Mall of Emirates!
Key information
Location: Al Wasl and Al Safa Road Junction, Al Mustaqbal Street, City Walk 2
Rating: 4.5 out of 5
26. Mondoux – Dubai Creek, Dubai Mall & JBR
They serve a range of classic coffees along wth many variations mixed with organic chocolate. Plus a few selected speciality blends manually brewed with a V60.
Mondoux is a bistro with a mission to spread joy and enhance the world through exceptional gastronomical experiences. They strive to create unique sensory combinations that enthrall their patrons, prioritizing the atmosphere and ecological considerations. Innovation plays a significant role in their operations, motivated by improving their personnel, menu, and technological solutions.
The food menu has a decent range and you can also enjoy a chocolate fondue or melted chocolate pots.
Key information
Location: South Tower 1 Promenade, Dubai Creek Harbour
Rating: 4.8 out of 5
27. Châteraisé – Mirdif & Mall of Emirates
With their focus on authentic Japanese desserts and cakes, you might not realise this dessert shop also serves great coffee. Keeping it with the classic and simple in true Japanese style.
Get ready to enjoy a well made coffee and satisfy your sweet tooth at Chateraise Patisserie! This hidden gem offers an irresistible range of cakes, pastries, and sweets made with the freshest, highest-quality ingredients sourced from Japan.
The Mall of Emirates branch is locarws inside Yatsudoki. So indulge your taste buds and take a trip to Japan without ever leaving Dubai!
Key information
Location: Mirdif 35, 60C Street, Mirdif (Main branch)
Rating: 4.5 out of 5
Conclusion
If it's the weekend, why not pop to one of these cafes off the list? Where I'm sure you'll enjoy the coffee. My personal favourites off this list are EL&N, Boon and Neighbors. Coffee can be subjective based on the beans and flavours your enjoy, so why not test out a few different places!
After spending time backpacking around Italy, I'm a bit of a coffee snob! It's still hard to find places that can make a flat white and an authentic cappuccino with the froth. So I hope you've enjoyed reading this list.
If you fancy thanking me for the list by buying me a real coffee, feel free to visit here. Cheers!
---
*This article contains affiliate links, clicking the link doesn't cost you anything extra but it does help me to keep writing these awesome articles for you!
Enjoyed this article? Give it a share!