When you first become a Muslim, also called a revert (I'll explain more another time), it's not always easy and there are some amusing things you find out after you revert to Islam. So whether you're a recent or old revert, curious about Islam or wonder what it's like being a revert. Then this article is for you! Here are the 10 things they don't tell you before you revert to Islam!
I've mixed in with some serious points about Islamic culture and the lifestyle changes that happen when you revert with a comedic overtone. Alhamdulliah, I actually love being a revert and so grateful Allah guided me on this path. I've met so many interesting people and my life has really become filled with even more love. There are definitely ups and downs, sometimes you get frustrated as a revert so I think it's good to let it out in the form of laughter. Plus if we can't sometimes laugh at our ourselves, then I don't think we're doing it right!
Everyone will ask you to make Dua for them
Conversations will often go like this, "Oh wow! You're a revert? When did you revert? Please keep me in your Dua's sister/brother!" Now they may or may not explain the reason why but it's because when you revert all your previous sins are forgiven so they believe your Duas (prayers) are the best/purer since you're free from sin. So regardless of whether you know the people or not, they'll ask you to pray for them.
Asking if you're married becomes the go-to topic of conversation
So people usually ask this for two reasons. First to find out if you came to Islam due to wanting to marry a Muslim guy and the second because marriage is an important part of your duty as a Muslim. If you're single, then typically they either say inshallah you'll find a husband/wife or they start asking you what you're looking for or they may even go as far as telling you they know this really good Muslim brother. Some sisters will make it their task to find you a husband. Get your ideal husband list ready cause your new sisters will be on the hunt for you!
You'll have at least one argument about your decision, probably more!
It seems in life you can be anything you like, except a Muslim. You'll get asked why so many times and not always in a positive way of just wanting to hear your revert story. People will tell you don't need to be a Muslim or become concerned that you're joining such a "strict" religion. It can feel like at times your constantly defending your decision but don't worry, it eventually dies down and people just learn to accept it!
Welcome to information overload as everyone starts to give you advice on your new path
Make sure you do this and don't do things like this! One person told you to do this one way and another is telling you different. You may even sit there while two Muslims start arguing with each other over the advice they want to give you.
If you're one of these people trying to give advice, first I would ask to take a step back and get to know them first. See where they are in their journey. Ask them what they're struggling with before you think about giving them advice. Are they going to their Islamic center, being actively involved and seeking knowledge? Then maybe just leave them be and certainly don't start a 10-minute lecture because you feel you need to correct them on something.
Other reverts are sometimes the worst for doing this! Each has to have their own journey and learn one thing at a time. Let Allah guide them. It's a slow process, where you become a better Muslim step by step. Don't be too hard on yourself if you are a revert! As long as you're learning, you're on the right track.
The high that comes after taking your Shahada
It's really one of the most wonderful but surprising aspects that happens. The euphoria you feel after is amazing and you'll want to run around telling the whole world how amazing Islam is. Sadly people's reactions will often bring you back down to earth quite quickly, so I would advise to initially only tell the people who won't react negatively and keep your high for a little longer. Also once you have more experience, you'll be able to better deal with the negatives. I had to add the cute kitty below!
You'll probably go too intense for your own good at some point
It's often related to the high and you'll get an addiction to find out all the knowledge you can, to the point where you end up neglecting everything else and even potentially cutting yourself off from people. This is a tricky one and you have to remember that Islam is about balance and shouldn't make your life difficult. Allah makes it easy for us, so if you're really finding everything a struggle and cutting people out then you're probably going too fast too soon. Then take a step back and simplify everything. The most important pillar is to pray at the prescribed times, as long as you're doing this. The rest will come.
Some friends and possibly even family members will decide to leave your life
This is where often the high comes crashing down and without realising you may be pushing them away by being too intense at the beginning. Most reverts who embraced Islam years ago, advise to take it slowly at the beginning and let those around you adjust. Suddenly donning a burka and turning up for the family dinner, of course, is going to shock them and make them feel alienated from you.
Some might argue you only need to do that which pleases Allah but they forgot Prophet Muhammed (PBUH) also told us it's about balance and to keep our family members close. If you can, tell them you're looking into Islam first and thinking of becoming Muslim. Let your family feel included in your decision. Of course, they will most likely say don't approve but if you can speak to them in a rational way and even potentially include them coming to the Islamic center with you it can potentially make the road easier. If they still choose to leave your life, whether it's friends or family. Then let them, Inshallah they come back once they see the positive effect Islam has on your life.
Once you start putting on a hijab you'll spend 99.9% of your time messing with it
Very few people tell you how irritating adjusting to the hijab can actually be. There will be times when you get completely fed up and want to rip it off. Again ask Allah for patience and keep trying. Every person is different and you'll have to find what works for you. What fabric you like, what style you like and what under caps or hair bands help keep it all together. Then it's just practice. It's quite fun at the beginning experimenting too but there'll be days when you'll feel like everyone is staring at you and your terribly wrapped hijab. We've all been there, we feel your sister!
There will be times when you question your decision or whether you're doing things correctly
I feel like this isn't a topic people want to talk about because they don't want to admit that sometimes their faith waivers or be the person that admits this. You never go as far as saying, "I don't believe." However, there will be times when you're arguing with people and life seems difficult that you might wonder if you're doing things right. In these times you have to remember the signs Allah gave you at the beginning and the peace you get when you pray. If you don't feel like praying, push yourself too because it will make you feel better.
For women, this is the hardest when it's your period because your connection to God through prayer is taken away which when a problem arises can feel even worse during this time and you end up feeling totally lost. However, this is also a blessing in disguise because every month you get to truly miss being able to do your prayers and end up waiting to be able to pray again. Alhamdulliah!
And last but not least you'll become a prayer Ninja
Ending on a funny and positive note. In the beginning, you might become a Muslim secretly or just not want to make a big scene about going for prayer so you'll learn to sneak off without anyone noticing. At times it can feel like you're doing something naughty and coming back hoping no one noticed you were gone for 10/15 minutes. Strangely… It seems most people don't notice. You're officially a prayer ninja!
I hope these 10 things made you chuckle! I also hope it helped raise some good points without being all too serious. Becoming a revert and declaring publically you're a Muslim it is one of the bravest things you can do and it is sometimes a difficult battle. However, Allah is the most forgiving and most benevolent so do not fear. Just keep going, have some faith and remember all the blessings too. May Allah bless you if you've just started on your journey as a Muslim. May Allah guide you if you're thinking about reverting to Islam and may Allah keep you on the righteous path if you're already a Muslim.
Having trouble praying at work? You can check out my article here for Tips of fitting in your Prayer/Salah at work! Thanks for reading and leave a comment below with your thoughts below!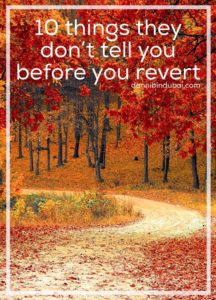 Enjoyed this article? Give it a share!