Dubai scuba diving is way more than just a luxury travel destination for the uber-rich. This bustling desert city actually offers a number of extraordinary underwater adventures. Nestled along the Arabian Gulf, Dubai boasts a variety of dive sites; from man-made aquariums to artificial reefs, to wrecks, to natural coral formations.
Obviously, with all of the city's development, diving here is quite different from, say, diving in the Caribbean, or in the Pacific, but the city's best dive sites do feature virtually everything a diving enthusiast could ever ask for: crystal-clear waters, an almost year-round diving season, and an abundance of marine life!
Ready to take the plunge? Below are 13 of the best indoor and outdoor dive sites in and around Dubai!
We spoke with dive experts at Dive In, who have over 20 different diving experts and years of diving experience to give you all their best advice for diving in Dubai.
Please note – This article contains affiliate links, as an Amazon Associate and a member of other affiliate programs, I may earn a commission on purchases. Clicking the link doesn't cost you anything extra but it does help me to keep writing these awesome articles for you!
Indoor Scuba Diving Dubai
While the terms 'indoor' and 'diving' are not usually mentioned in the same sentence together, there are actually a good number of benefits that come with indoor dive sites.
First, indoor dive sites are generally safer and more comfortable than their outdoor counterparts. An indoor dive site allows for more controlled conditions, eliminating variables such as currents, tides, and unpredictable weather. Second, indoor diving offers a level of convenience that may not always be present in outdoor diving.
Indoor dive sites allow for longer dive times, and indoor dive facilities often feature amenities such as changing rooms, gear rentals, and showers! Plus they're usually open year-round. Lastly, indoor diving is an excellent platform for skill development, as instructors can focus on teaching basic diving skills and concepts without worrying about unpredictable external factors that would mostly be present in outdoor diving.
Equipped with the world's largest swimming pool (with a total depth of 60 meters!), Deep Dive Dubai offers a unique indoor diving experience for divers of all levels. The pool is filled with 14 million liters of purified water that's kept at a constant 30 degrees Celsius, and features an astonishing underwater abandoned metropolis–complete with submerged buildings, streets, and even a fully furnished apartment!
Located in Nad Al Sheba, just 15 minutes away from Downtown Dubai, Deep Dive Dubai offers a variety of underwater adventures. Certified divers may partake immediately in Scuba Dives, while non-certified divers can start off with Discover Scuba Diving, Discover Snorkeling, and Shallow Dives!
How much does it cost to go to Deep Dive Dubai?
Deep Dive Dubai, the world's deepest pool for diving starts from 400 AED for snorkelling to 3000 AED depending on the scuba diving package you choose. This includes all equipment for your dive. For a beginner's dive package with an instructor is currently 1800 AED per person.
You can also add extras such as having a recorded session.
Is Deep Dive Dubai worth it?
Absolutely, Deep Dive Dubai has record-breaking depths and captivating underwater structures, all in a controlled environment. Offering a unique opportunity for an unforgettable diving experience! Plus it caters to both beginners and experienced divers.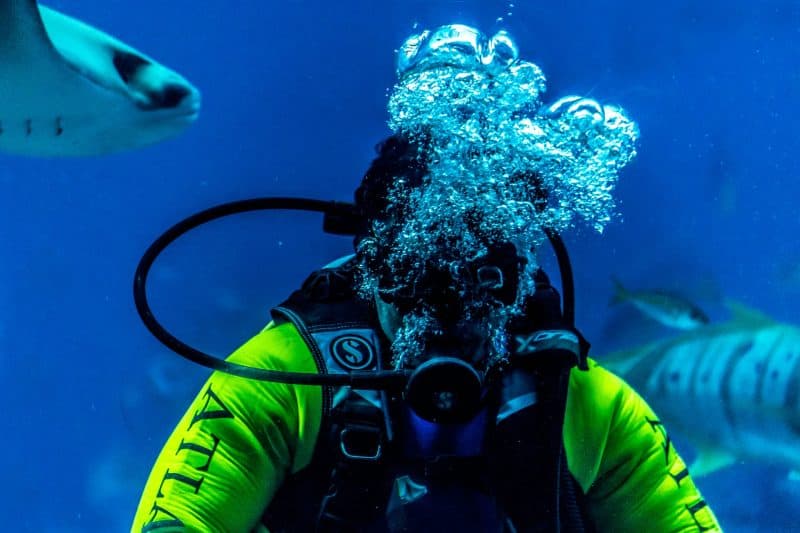 Diving at Atlantis on Palm Jumeirah in Dubai is an exceptional underwater experience that allows you to explore a mesmerizing world beneath the waves. There are two options, whether you prefer to dive at Aquaventure or Lost Chambers Aquarium. The options depend on if you are a certified or none certified diver.
For none certified divers or those wanting you to snorkel, you can start with The Ambassador Lagoon which is part of Lost Chambers Aquarium. This stunning 11 million litre aquarium features 65,000 marine animals and offers the chance to dive alongside a diverse array of marine life; including tropical fish, graceful rays and even sharks.
Other captivating options include a Shark Safari, Shark Snorkel, Aquatek Extreme or Dive Discovery. While certified divers can choose from Dive Explorer or Predator Dive.
Additionally, if you want to become a certified diver, Atlantis offers PADI courses. There are also other marine-based experiences such as swimming with dolphins, sea lion experiences or of course their legendary largest waterpark in Dubai and the world!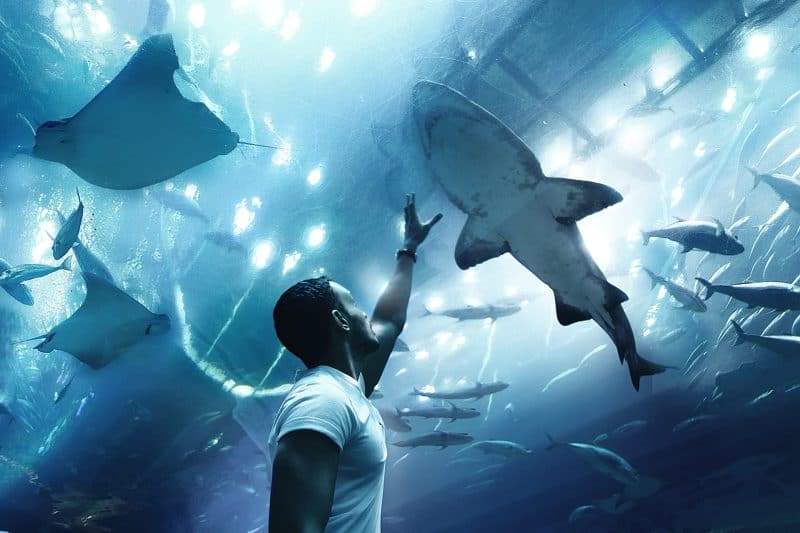 Located in the iconic Dubai Mall, the Dubai Aquarium is an incredible dive destination ideal for certified and non-certified divers alike. The Aquarium's 10-million-litre tank (one of the largest suspended aquariums in the world) is home to over 140 aquatic species, including over 400 rays and sharks.
Currently, the Aquarium offers these dive experiences: Shark Dives (790 AED); Specialty Dives (2,100 AED); PADI Discover Scuba Diver program with Al Boom Diving (1,210 AED); Cage Shark Walker Experience (620 AED); and Cage Snorkeling Experience (370 AED). All prices are inclusive of scuba gear!
While non-certified divers may avail of the Shark Walker and Cage Snorkeling experiences, they would still have to complete the PADI Discover Scuba Diver program to be able to do Shark Dives and Specialty Dives.
What are the dive experiences offered at the Dubai Aquarium and Underwater Zoo?
The Dubai Aquarium offers Shark Dives, Specialty Dives, PADI Discover Scuba Diver program with Al Boom Diving, Cage Shark Walker Experience and Cage Snorkeling Experience.
Marine Dive Sites in Dubai
Of course, while there are many benefits that come with indoor diving, there's really no substitute for the real thing if you want to explore underwater landscapes. Yes, there's more risk involved (in theory), but the variety of dive sites and diving conditions, the enhanced physical benefits, as well as the sense of freedom that comes with being able to connect with nature make the risk worth it.
Zainab Shipwreck
Among the most popular dive sites in Dubai, the Zainab shipwreck is located approximately 19 nautical miles off the coast of Dubai. Originally used to transport (or smuggle, depending on who tells the story) oil, the vessel was sunk in 2001. Today, more than two decades later, the region's marine life has taken over the wreckage; and dives here now feature sightings of snappers, batfish and yellowtail barracudas!
With a maximum depth of 30 meters, the Zainab shipwreck is an ideal site for more advanced divers.
MV Ludwig
Another notable wreck off the coast of Dubai (one of the most well-preserved), the MV Ludwig was sunk in 2000 during one of the UAE armed forces' target practice sessions. Today, lying mostly intact on its port side, it now serves as a home for a variety of Dubai's marine life.
Some of the species found here include barracudas, damselfish, sea squirts, and pennant fish. With a maximum depth of 27 meters, this dive site is most suited for advanced divers.
MV Dara
One of the most historic wreck dive sites on this list, the MV Dara, originally built in 1948, was a four-deck high passenger liner that travelled between Dubai and Muscat. It was tragically sunk in 1961 when it struck a mine. The resulting fire and explosions took a total of 238 lives. As such, this dive site also serves as a memorial.
Today, the wreck lies in the Persian Gulf on its starboard site in three main sections. Unlike the MV Ludwig, however, only the front and back end of the MV Dara are still recognizable. While it has become home to a diverse array of marine life, most divers explore this site for its history. With a maximum depth of 30 meters, the site features strong currents and unpredictable visibility, which makes it suitable only for highly experienced divers.
Mariam Express
Located off the coast of Dubai, the Mariam Express was a ro-ro vessel that transported cargo from the UAR to Iraq. It was sailing from Hamriah Port to Iraq when it sank due to rough sea conditions in 2006.
Lying at a maximum depth of around 25 meters, the wreck is now home to a wide variety of marine life. Dives here feature sightings of spotted eagle rays, yellowtail barracuda, and a variety of flatworms and nudibranchs.
Martini Rock
Situated near the Palm Jumeirah, Martini Rock gets its name from the martini glass shape its rocky pinnacles form beneath the surface. This dive site is known for its great visibility even on bad days, and its abundance of marine life–making it ideal for divers who are into underwater photography, so make sure you bring your underwater camera with you when you make your dive here.
Divers here will usually encounter nudibranchs, trigger fish, scorpion fish, lionfish, cuttlefish, snappers, turtles, rays, and moray eels. The site also features a variety of soft and hard corals. Martini Rock has a maximum depth of approximately 20 meters.
Jumeirah Beach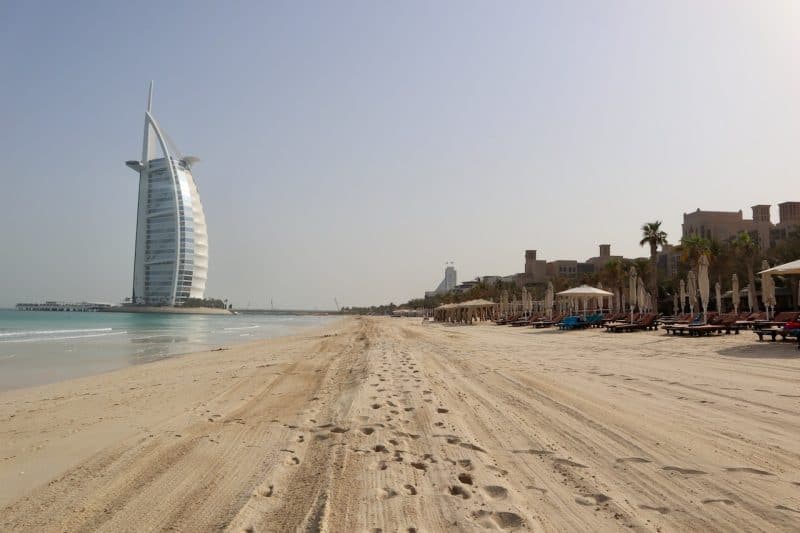 Offering arguably the best dive sites in Dubai for beginners, no Dubai diving list is complete without mentioning Jumeirah Beach. Dive sites here range from around 5 to 12 meters in depth, and their generally calm conditions are great for those just starting their scuba diving journey.
Of course, another factor that makes Jumeirah Beach ideal for beginners is its accessibility. It's a popular tourist destination, and is located in the heart of Dubai–so it requires minimal travel time, and is very near equipment rentals and dive shops!
Diving in Dubai is an incredible experience that combines the allure of a modern cosmopolitan city with the natural wonders of the underwater world. The city offers something for every skill level and preference – from indoor aquariums to artificial reefs, to natural formations. Whether you're just beginning your scuba diving journey, or planning to test your wreck diving skills, Dubai is definitely worth visiting.
Marine Sites for Scuba Diving Tours from Dubai
Red Buoy
Located around 20km off the coast of Abu Dhabi, Red Buoy is a great dive site for divers who value visibility above all else. The dive site has a maximum depth of around 11 meters, and is home to a variety of marine life.
The site's crystal clear waters offers divers and snorkelers an incredible view of its vibrant reefs and the reef fishes that live in them. Whale sharks have also been known to visit the area.
Sharm Rock
Also known as Three Rocks, Sharm Rock is one of the best dive sites in Fujairah for snorkelers and entry-level divers. It is easily accessible from the coast, has great visibility (making it ideal for night dives), mild currents, and manageable depths at 10 to 22 meters.
On top of all that, Sharm Rock is teeming with marine life. Divers here may encounter bannerfish, puffers, snappers, moray eels, reef sharks, cuttlefish, and turtles navigating vibrant coral formations. In warmer seasons, whale sharks are occasionally spotted in and around the dive site!
Inchcape I
Located in Fujairah, the Inchcape I is an artificial reef created in 2001. Before it was decommissioned and intentionally sunk, the vessel was utilized to transport crew and supplies to and from ships, oil platforms and rigs in both Dubai and Fujairah.
Resting on a sandy seabed at a depth of 30 meters, the sunken vessel is now home to vibrant pink and purple corals, sponges, and anemones. Nudibranchs, sea horses, moray eels, and different types of fish can also be seen patrolling the wreck. This dive site is ideal for advanced divers.
Dibba Rock
A perennial favourite among snorkelers and divers alike, Dibba Rock is a small rocky island in Fujairah. This marine protected dive site is characterized by an impressive coral reef system, adorned with colourful hard and soft corals. Dibba Rock is home to a high population of green turtles, black-tipped reef sharks, as well as many species of fish.
While the area is prone to both thermoclines and strong currents, it only has a maximum depth of around 14 meters–making it ideal for beginner divers.
Frequently Asked Questions about Diving in Dubai
Is Dubai good for scuba diving?
Yes, scuba diving in Dubai is a great destination with its year-round warm weather and clear waters of the Arabian Gulf. Dubai has diverse marine life along with several reputable dive centres offering guided dives. You can choose from both indoor or sea dives From artificial reefs to shipwrecks, Dubai offers a rewarding and enjoyable diving experience for beginners and experienced divers alike
What are some of the best dive sites in Dubai for beginners?
Some of the best dive sites in Dubai for beginners include Sharm Rock, Dibba Rock, and Jumeirah Beach due to their manageable depths and calm conditions.
What are some of the best outdoor dive sites in Dubai?
Some of the best outdoor dive sites in Dubai include Sharm Rock, Zainab Shipwreck, MV Ludwig, MV Dara, Inchcape I, Dibba Rock, Mariam Express, Red Buoy, Martini Rock, and Jumeirah Beach.
How much does scuba diving cost in Dubai?
The cost of diving in Dubai varies based on factors such as the type of dive, location, dive centre, and whether the equipment is provided. A beginner's diving session can range from approximately 250 AED for a basic lesson to 3000 AED for a special aquarium experience with exotic marine life.
At the low end, it would be a starter session typically done in a swimming pool that just covers using diving equipment and can be great for those who want to gain confidence before going for a larger dive.
A more expensive experience will typically be a 1 on 1 or experience with an instructor or a maximum group of 2. This would be at one of Dubai's most famous attractions and includes seeing rare marine life along with equipment hire plus even extras such as video equipment with video editing.
It's best to check with specific dive centres and operators for precise and up-to-date pricing, as pricing can change along with offers during the off-peak season.
Which month is best for scuba diving in Dubai?
The best months for scuba diving in Dubai are generally from October to May. During this period, the water temperature is comfortably warm, ranging from around 21°C to 32°C (71°F to 89°F), making it ideal for both indoor and marine diving exploration.
Dubai also has an array of indoor diving options, so it is entirely possible to dive during the summer in Dubai if you wish. As aquariums are fully temperature controlled for a perfect diving experience.
For more information and what you can expect the Dubai weather to be like.
---
Before you go, check out some of these other articles you might be interested in:
Interested in seeing more wildlife in Dubai? Check out the beautiful Dubai Butterfly Garden
More adventure at sea, see Dubai's attractions from the sea with a Jetski tour of Dubai
Stay by the sea with the best hotels of Palm Jumeirah
Enjoy a beach day with things to do at Kite Beach Dubai
---
Scuba diving in Dubai offers an extraordinary journey into a captivating underwater world. From exploring artificial reefs and encountering marine life in a giant aquarium to delving into historic wrecks, Dubai's diverse dive sites provide an array of underwater experiences for enthusiasts of all levels.
The warm waters, excellent visibility, and unique marine ecosystems make Dubai a remarkable destination for both beginners and seasoned divers. Deep Dive Dubai offers a unique experience with record-breaking depths while Jumeirah Beach offers the perfect beginners adventure for those wanting a marine-based site.
As the city seamlessly blends modernity with heritage, scuba diving here not only reveals the treasures of the deep but also reflects the rich cultural tapestry that defines Dubai. So, whether you're seeking thrilling adventures, tranquil moments beneath the waves, or the chance to witness marine conservation efforts, Dubai's underwater world promises a journey of discovery, wonder, and unforgettable memories.
---
*This article contains affiliate links, as an Amazon Associate and a member of other affiliate programs, I may earn a commission on purchases. Clicking the link doesn't cost you anything extra but it does help me to keep writing these awesome articles for you!
---
*This article contains affiliate links, as an Amazon Associate and a member of other affiliate programs, I may earn a commission on purchases. Clicking the link doesn't cost you anything extra but it does help me to keep writing these awesome articles for you!