Over the last nine years since I first moved to Dubai, I've looked for work in Dubai in many different ways and seen the job landscape change very rapidly too. In fact, Dubai is somewhere where the job market can shift within a matter of months! So I decided to give advice on how to secure a job in Dubai in any market based on all of the experience I've had over the years. As the market slows down, it will typically take longer to get a job but the methods below will help make finding a job in Dubai quicker for those new to the region
I've also included all the essential things you must do before you decide to try and move to Dubai to find a job! Along with answering all the common questions people have about working in Dubai, such as living costs and what jobs are in demand Dubai in demand.
---
Want more information on Dubai? Make sure you read these other articles here:
Where is Dubai? And other essential information about the UAE
Commonly asked questions about living in Dubai
How do I apply for the Dubai remote working visa?
What is the cost of living in Dubai?
---
How can I get job in Dubai?
After seeing the sparkling lights of the Burj Khalifa and the luxury lifestyle offer in Dubai. Many start to ask, "How can I live in Dubai?" Of course the easiest way to move here is to find a job!
Dubai is like most other countries, you need to apply to jobs that are based in Dubai and the majority are advertised online. However, Dubai is a much more network based place than most Western coutries.
Companies like to get recommendations from someone already here and get a sense of who you are as a person. This makes it easier to move roles or to get a job where you don't have a specific qualification which is a huge advantage over Western countries.
In addition, Dubai based experience is highly desirable. Since the culture and market can be somewhat different than Europe or the US. However despite this, many still manage to move over without Dubai experience of course since the city is nearly 90% expats!
So my biggest tip for getting a job in Dubai is networking! Speak to people you know, find out if you know someone already living here, fly over for a short trip and attend networking events or connect with people online.
I'll go into more detail all the different ways to apply for jobs below!
Is it easy to get a job in Dubai?
This can really depend on what sector you work in, what your qualifications are and what the general economy is like in Dubai at the given time.
I work in marketing and I've found getting a marketing role quite easy in Dubai. This is due to it being a growing sector that every kind of company needs marketing in the new digital world.
Also they often like Western nationals to set up their marketing, so my expertise is valued. Having a native speaker writing your English content also makes your company look more professional.
Teaching roles are also in high demand and they commonly recruit from abroad, so this type of role is easier to get without needing to be in UAE. You will normally need 2 years teaching experience and a relevant teaching qualification.
Another role which is easier to get from abroad is that of a Real Estate Broker. Many real estate companies like those who have been trained in Western countries and some companies even actively recruit from abroad. One benefit of this type of role is it doesn't require any pre-existing qualifications.
Before you book that plane ticket, research your job role and sector
This is the most, most, most, important part before you decide to get on plane to Dubai. Look through job websites to find out what salary you're likely to get in your sector.
Some roles in Dubai pay significantly less than those in Western countries. These include service-based roles, such as a store assistant, waitress (server) and bar tender. You will earn less than back home unless you are in a higher-up or managerial role. This is due to competition from nationalities from lower-income nations.
Another one is graphic designer jobs and office assistant jobs in Dubai. Again for the same reason as the service based industry ones, they are typically filled by people from lower income nations. Which leads onto my second point!
Apply for a higher position than you would back home
So it might surprise you but you may be able to get a higher position than you're currently in! It's definitely worth applying for positions higher than you would do normally, especially if you're from a Western country and work in a service based or office assistant role. As it's more common for Western expats to be Bar Managers, Store Managers, Marketing Managers etc.

Also a great tip I learnt from a recruiter. If you meet two-thirds of the requirements but not all. Still apply!
What jobs are in demand in Dubai?
These are the most common jobs and Dubai careers for expats in Dubai:
Airline Crew
Teaching
Marketing
Social Media
Project Management – Construction
Engineers
Real Estate Broker
Recruitment
IT manager
Medical
Nanny or Governess
Personal Assistant
Admin Roles
Sales
What language is spoken in Dubai?
The most commonly used language in Dubai is English and Arabic is the official language of the country. However you can find many job roles speaking English only. This is why jobs in Dubai for foreigners are much easier to secure! As it doesn't require learning a new language for many.
Arabic or speaking other languages is a highly desirable skill and can certainly help in finding a job.
Do I have to move to Dubai before I find work?
In an ideal world, try to find something before you move there. If you work in a specialist field that is in high demand, finding work without moving will be a lot easier. For most job roles however, companies request for someone who is already located in the UAE. Even if you're on a tourist visa in the UAE.
Another option is to see if your current company has operations or an office in Dubai and to request a transfer. Often with this option, your company will include a relocation package to help with the move. So it will make it cheaper to move to Dubai and less risky!
Why do many companies request UAE applicants? The market moves very fast here and it's common for jobs to have a very short start date. I've had roles where I've started the Sunday after the interview. The exception to this rule generally are larger multi-national corporations.
Secondly, a lot of companies don't want to pay for relocation costs. If they hire you from abroad, they have to include a relocation package. Such as flights, initial accommodation, and shipping belongings. Due to the economy and popularity to work in Dubai, these packages have pretty much disappeared. So often companies say they want someone already based in the UAE in order to avoid these extra costs.
How much money should I save before I come to Dubai?
You will need a minimum of three months money to survive but I would recommend taking six months of money since the job market is slower at the moment. You'll also need extra money for paying for a deposit for your accommodation. It's also quite common if you'll be renting an apartment for rent to be paid in advance, sometimes multiple months.

More and more landlords now accept multiple checks but some landlords may still request 3 months in advance. You may be able to negotiate for a rent reduction if you pay in advance also!

For me personally; monthly costs including renting a room, buying food and renting a small car. My absolute basic monthly costs were 6000 AED which is $1633 USD (£1200) per month. This would be without any extras such as dinners out. So realistically you'll need at least 36,000 AED ($9800 / £7200) to cover your living costs for six months
What qualification do I need to work in Dubai?
There are no set qualifications for anyone to move to Dubai however having a degree definitely helps with the visa process in Dubai. Those with a degree have more protections under employment law as they are put on a higher level.
You will need to verify your degree in your home country and then have it stamped in the UAE as well. It is best to start the process before you come to Dubai, as the service to attest your degree can be expensive. Doing the first part in your home country, so you can run between offices will save you a lot of money.
Can I get job in Dubai without degree?
Yes! There are many jobs without a degree and despite it having some advantages in terms of your visa. There are still many roles out there where you do not need a degree.
Is Dubai a good place to work?
My favourite part about Dubai is the work life balance and lifestyle. I have a much more balanced life in the GCC, family is given a lot more importance and I can have a much higher standard of life than I would back home.
The job market here and companies tend to be less stable than western countries, so that's one thing to keep in mind. You'll find people move around jobs and even the economy changes a lot. Some of the most stable careers out here are working in the airline industry and teaching.
Dubai is generally more expensive however to live in as an expat than their home countries, I go into more detail about the living costs of Dubai in my previous article here
Best ways to apply for Jobs in Dubai
1. Join Dubai Facebook groups
Say what?? YES! Facebook groups (you can see our one for saving money in Dubai & the UAE here). The UAE is about networking and a lot of job roles get posted within Facebook groups. It's also worth searching for groups based on your Nationality since there are groups often offering advice specific to your nationality. You can also search for "Jobs Dubai" or other communities related to Dubai.
For example, searching "British Dubai" in the Facebook search bar and then selecting the Groups tab so only Groups are showing instead of pages.
2. LinkedIn search for the right people
Search for the larger companies which are within your field and then look for those working within HR. You can send a LinkedIn request and ask if there are any roles available but make sure they're the right person to speak to first!
Also by following them, you'll get to see when roles are available as they'll typically share them on their profile. Thus making job hunting a lot easier and companies love it when they don't need to pay recruiter fees!
3. Look through We Work Remotely
This website is dedicated to Remote Working roles and with Dubai's now very affordable Remote Working Visa, it's never been easier to move to Dubai! We Work Remotely is one of the largest and most well known websites for finding remote work. So while it's not technically a job in Dubai, it will give you the same opportunity to work there!
Although I haven't had any companies contact me directly through this website, I have found recruiters tend to search it. So it's an easy way for them to find you and contact based on roles they may have. It's free to upload your CV.

You can also search for job roles here in your field and apply for them with your uploaded CV. Out of the several different websites I used, I found Gulf Talent to be the easiest to use and most successful!
5. Attend networking events in Dubai
If you have the budget, I highly recommend to fly out to Dubai and try to find networking events within your sector. There is always events going on in the city and it's very easy to meet new people in Dubai. Especially if you are an outgoing person!
You can find events based on nationality, general expat events, professional events, women's events and the list goes on! There's pretty much an event for every group you can imagine!
Conclusion
The best way out of all of these for me personally is searching through the groups for job posts. Often this means you are dealing directly with the company or recruiter. They are the most up to date and receive lower spam amounts compared to websites like LinkedIn. Of course it's good to apply for others on top of this and not to rely on just one but due to the network based nature of Dubai. These groups have always been my most successful way to find and apply to jobs in Dubai
I wish you all the best in your job search! Don't forget to check out our other articles so you can learn all you need to know before you move to Dubai or the UAE!
---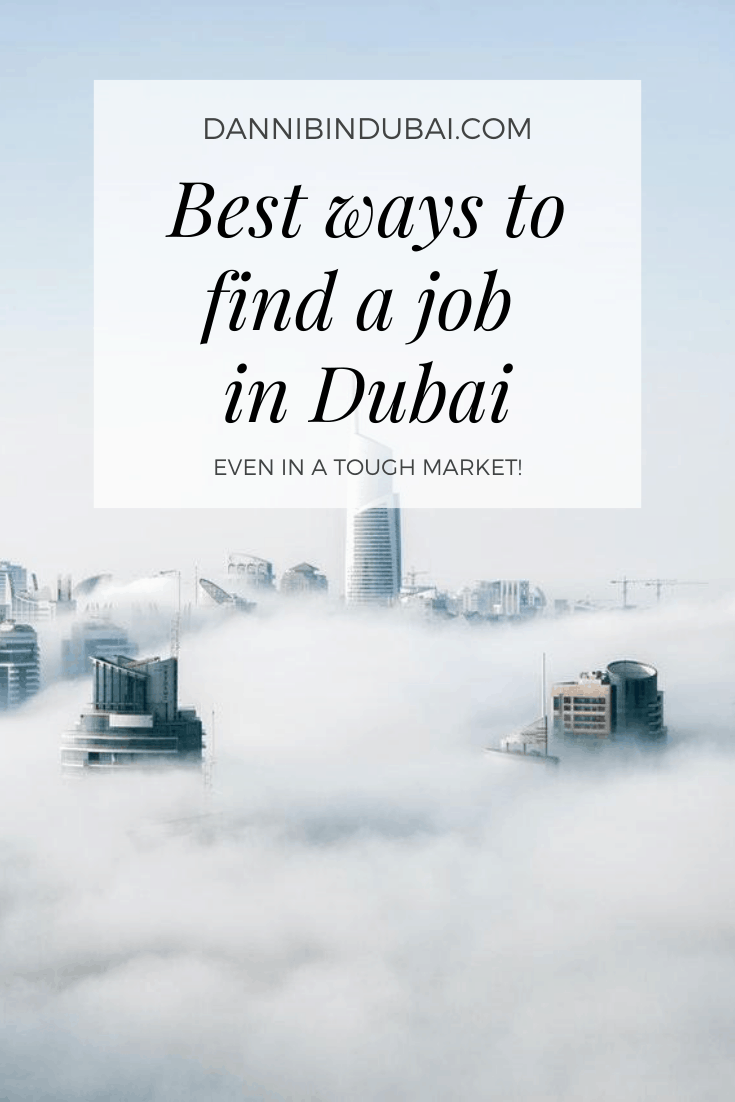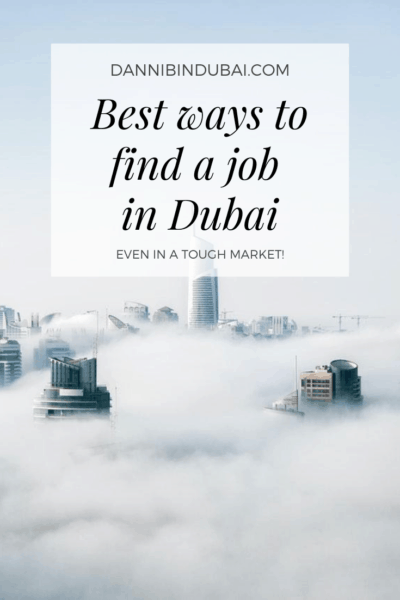 Enjoyed this article? Give it a share!