If you're in search of the best Kunafa in Dubai, then look no further! As an experienced foodie who has explored many of the city's eateries, I have compiled a list of nine places that are sure to satisfy your Kunafa craving!
From classic cheese-filled treats to more exotic flavours such as Lotus biscuit, these locations offer some of the most delicious Kunafa creations in all of Dubai. I've also included the prices for ease so you can know the Kunafa price in Dubai before you go.
Whether you're looking for something special or simply want to try some traditional recipes at reasonable prices, this list will give you a great insight into how each spot stands out from its competitors – so let's get started!
(We also apologise for the future weight gain this list may or may not cause)
Kunafa is a beloved Middle Eastern dessert, that has been delighting the palate for centuries. Its sweet and cheesy flavours combine to create a symphony of nostalgia and contentment that is sure to make you come back for more. Seeing the magic cheese pull as it gets served is truly a mouth-watering moment! It's no wonder the love for this delicious treat is as strong as ever, especially in Dubai. One of the city's favourite indulgences.
Although you may find Kunafa served at Emirati food restaurants in Dubai due to its popularity, it is not an Emirati food! It is originally from Nablus in Palestine.
I've mostly selected dessert shops and bakeries, as these typically have the best Kunafa compared with restaurants. Most bakeries do large trays fresh daily since there's nothing better than fresh on the day Kunafa! When it comes to Kunafa in Dubai, there are several shops that claim to have the best treats around – but only nine can truly be considered the absolute best:
*Please note prices may change, so please check directly with the restaurant
1 – Ibsais Sweets – Jumeirah 3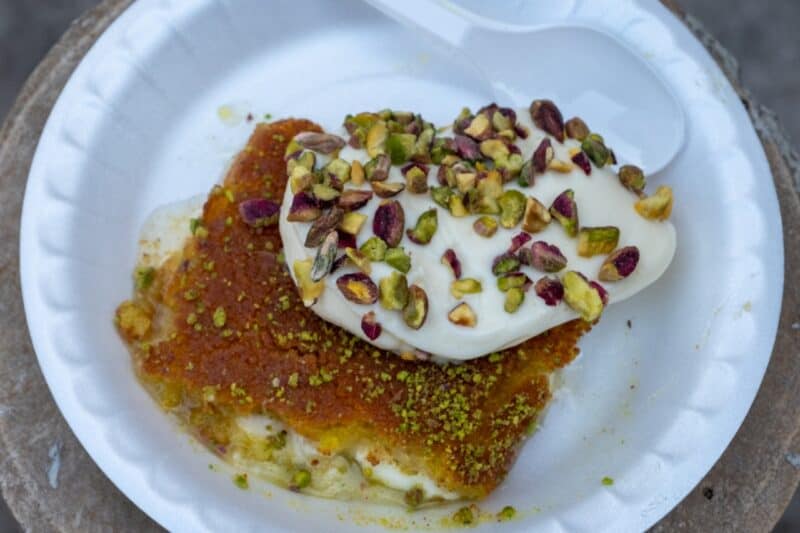 Ibsais Sweets is the perfect place for those looking for traditional Kunafa desserts in Dubai. Their speciality is Nabulsi Kunafa, which is made with classic white cheese. The quality of their creations is top-notch and tastes as if Palestinian hands made it.
In addition to the Nabulsi Kunafa, they also have delicious Bain Narain Kunafa and other traditional treats. Prices are reasonable and their friendly staff make this spot one of the best for Kunafa in Dubai.
Key information & prices:
Location: B2 Mall, Jumeirah 3
Timing: 10 am till 12 am
Price: 40 AED for a small, 75 AED for 1 kg
Rating: 4.6 out of 5
2 – Something Baked – JLT & Business Bay
Something Baked in JLT is the perfect destination for those looking for a traditional yet modern bakery. Their menu features authentic Mana'eesh, Saj, Fatayer and of course Kunafa! Choosing from either a small or large 1kg portion.
All of their products are freshly baked to order and they also offer many gluten-free and vegan options. Prices are affordable, making this one of the best spots for Kunafa in Dubai.
Key information & prices:
Location: J2 Tower Cluster J, Jumeirah Lake Towers & RBC Tower B1, Marasai Drive, Business Bay
Timing: 8 am till 12 am
Price: 21 AED for 1 piece, 84 AED for 1 kg
3 – Zaroob – Trade Center, Dubai Marina & Motor City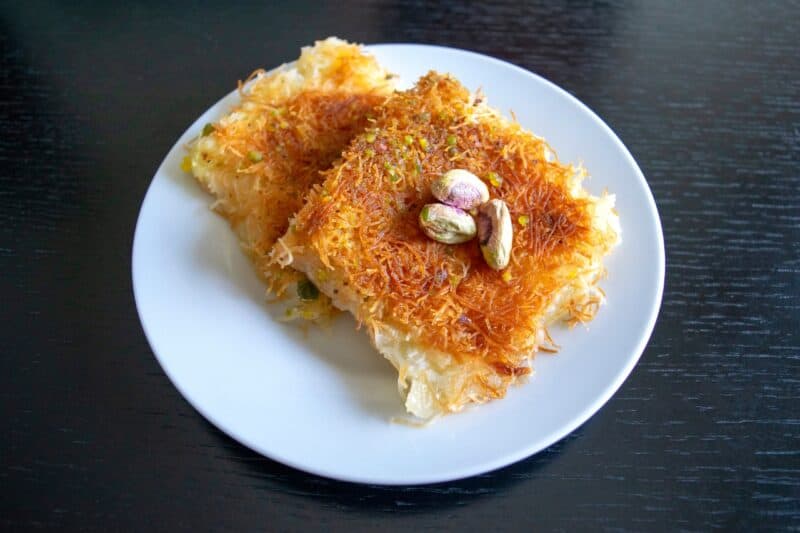 Zaroob is an interesting place to enjoy Kunafa in Dubai. The restaurant has a unique decor and large outdoor area at the Trade Centre branch. One of the best things about Zaroob is that it's open late for your late night kunafa cravings!
The menu features classic and creative Arabian dishes, including Kunafa. Prices are reasonable and the food is always freshly prepared, only downside is plastic plates! But still a great place for Kunafa in Dubai.
Key information & prices:
Location: 1 Sheikh Zayed Road, Trade Center (Main Branch)
Timing: Open 24 hours
Price: 24 AED for 1 piece
Rating: 4 out of 5
4 – Al Baba Sweets – Al Wasl & Al Barsha
Al Baba Sweets is one of the best places to get Kunafa and other sweets in Dubai. Located in Al Wasl and Al Barsha, they offer all kinds of sweet treats in a Lebanese style. They are a famous name in Lebanon and have branches there. Good service and quality overall.
Key information & prices:
Location: Ground Floor, Auris Hotel Apartments Building, Al Barsha & 829 Al Wasl Road, Al Wasl.
Timing: 9 am till 9 pm (Al Barsha)
Price: 18 AED 1 piece, 100 AED per kg
Rating: 4.4 out of 5
5- Wafi Gourmet – Dubai Mall, Wafi Mall & Jumeirah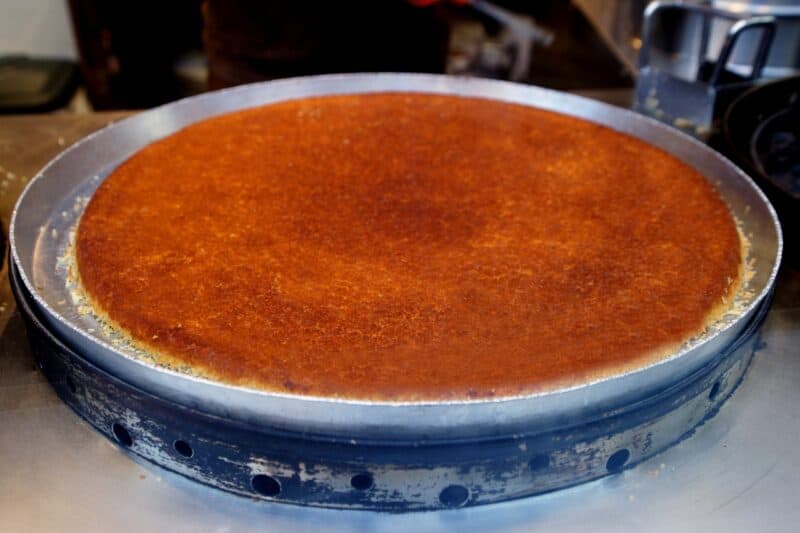 Of course, we had to include this option located in Dubai Mall for those wanting to enjoy some Kunafa after the excitement of wandering around Downtown Dubai. Their Dubai Mall location is a restaurant overlooking Dubai Fountain also, so you enjoy the music, water and light show while you eat.
Their large Kunafa trays are visible in the restaurant. It's also a grocery store, so if you live nearby you can take some home to enjoy! Overall, their Kunafa and other foods are really good but they are one of the priciest!
Key information & prices:
Location: Lower Ground Floor, Dubai Mall, Downtown Dubai (Dubai Mall Location)
Timing: 10 am till 12 am
Prices: 34 AED for 1 piece
Rating: 4.1 out of 5
6 – Kullaj Omar – Al Khawaneej
Kullaj Omar is a Palestinian-style bakery located in Al Khawaneej, Dubai. The shop is known for its top-notch Kunafa desserts, made with traditional recipes and quality ingredients. Their menu includes both classic flavours, as well as unique offerings like Nutella and Lotus. You can also get a scoop of ice cream on top. Prices are affordable and overall service is good.
Key information & prices:
Location: Last Exit, Al Khawaneej
Timing: 2 pm till 12 am
Price: 20 AED for 1 platter
Rating: 4.2 out of 5
7 – Rawabina Restaurant & Sweets – Umm Al Sheif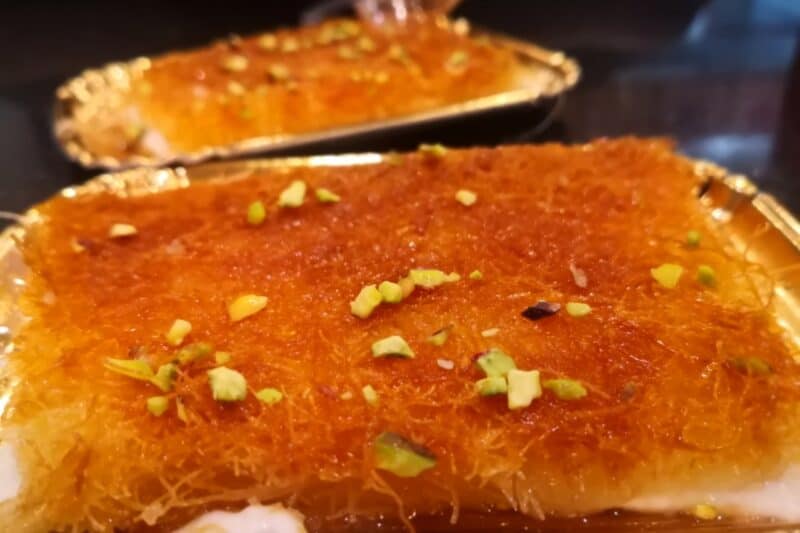 Rawabina Restaurant & Sweets is a Jordanian-style restaurant located in the Al Safa area of Dubai close to Sheikh Zayed Road. The restaurant offers both indoor and outdoor seating, making it ideal for those looking for an intimate dining experience or a place to enjoy with a group of friends.
Rawabina specializes in traditional Jordanian dishes, including Kunafa. Prices are fairly reasonable for the portion size and the staff are known for being friendly and helpful.
Key information & prices:
Location: Sheikh Zayed Road, Umm Al Sheif
Timing: 8 am till 1 am
Price: 30 AED for 1 platter
Rating: 4.4 out of 5
8 – Feras Al Diyafa Sweets – Multiple locations
Feras Sweets is a popular shop in Dubai and across the UAE, renowned for its delicious Kunafa. it's been established in the UAE since 1984. Its menu features classic Middle Eastern sweets and coffee, including a soft or hard Kunafa. Their hard Kunafa is the perfect amount of crispy, sweet and cheesy.
Prices are slightly higher than other places but worth it for the quality and taste offered. Definitely recommend trying them out!
Key information & prices:
Location: Discovery Gardens, Motor City, Sheikh Zayed Road, Al Barsha, Silicon Oasis, Garhoud, Al Warqa 1, Business Bay & Abu Hail (Plus across UAE)
Timing: 9 am till 12 am
Price: 24 AED for 1 piece, 90 AED for 1 kg
Rating: 4.2 out of 5
9 – Qwaider Al Nabulsi Sweets – Muraqqabat
Qwaider Al Nabulsi Sweets is a Middle Eastern sweet shop located in the Muraqqabat area of Dubai, specializing in Kunafa and other Middle Eastern sweets. They are known for their quality products and have unique flavours such as mango or banana which can be made to order. Customers can also choose from various Kunafa in classic flavours such as cream, cheese or pistachio.
The restaurant has a family-friendly atmosphere and is affordable.
Key information & prices:
Location: Al Muraqqabat Road, Muraqqabat
Timing: 8 am till 2am
Price: 17 AED for 1 piece, 65 AED for 1 kg
Rating: 4 out of 5
---
Before you go, check out some of my other related articles:
Arabic desserts you must try and where you can get from in Dubai
Restaurants with a Burj Khalifa and Dubai fountain view you must visit
How to make yummy karak chai to enjoy at home
Check out our other Khaleeji recipes here to suit your cravings
---
So there you have it! Our best places for Kunafa in Dubai. I do recommend, if you plan to order and take it home, Kunafa in the microwave just isn't as good but heating it in the pan or oven will yield a much better result! The absolute best place to eat it, however, is in right the shop when it's the freshest.
From classic flavours like cream and cheese to unique offerings such as Nutella and Lotus, there's something here for everyone. So next time you have a craving for this delicious Middle Eastern dessert, try one (or more!) of these top-notch locations. Make sure to check out some of my other Dubai articles for more great restaurants in Dubai!
---
*This article contains affiliate links, as an Amazon Associate and a member of other affiliate programs, I may earn a commission on purchases. Clicking the link doesn't cost you anything extra but it does help me to keep writing these awesome articles for you!